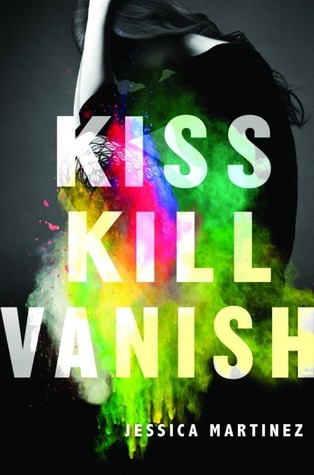 Kiss Kill Vanish
Author:
Jessica Martinez
Publication:
Katherine Tegen Books (October 7, 2014)
Description:
Love. Betrayal. Murder.
Valentina is living a charmed, glittering life in Miami—falling in love for the first time, showered with gifts and affection by her father, surrounded by friends—when one shocking moment shatters everything she thought she knew about herself, her boyfriend, and her world. With no one left to trust, Valentina sheds her identity and flees to Montreal, where she finds work posing for a series of portraits by a pompous young artist. Valentina has always been at home in the art world, but she's never felt quite so alone
Valentina's carefully constructed new life comes crashing down when someone from her past resurfaces, putting her safety in question and her heart on the line. With betrayal at every turn, Valentina must untangle the deceptions of those she once loved and race to find her own truth—before it's too late.
My Thoughts:
KISS KILL VANISH was an engaging and fast-paced story about a young woman who has to remake her life when she learns that everything she thought about it was a collection of lies. Valentina Diaz was the favored youngest daughter a wealthy man. She was living a wonderful, privileged life in Miami. She and her father shared an interest in art and she traveled all around the world with him visiting galleries and attending auctions. At seventeen, she falls in love with one of her father's young associates. Emilio was everything a young girl could want - handsome, caring, and tender. He taught her to play the mandolin. Their relationship is secret, she thinks. He's twenty-four and works for her father - probably not her father's first choice for her boyfriend.
They are together in his room one day when her father knocks on the door. Emilio stuffs her in a closet and then opens the door to her father and another man. She watches as Emilio kills the man while her father watches. Valentina runs taking Emilio's mandolin with her. Pawning her jewelry gets her to Montreal where she scrounges a living busking and acting as an artist's model. Besides her poverty, she is dealing with heartbreak after watching her boyfriend kill a man and her father order it. When see sees Emilio again at a gallery show and learns that the artist she is working for is employed by her father to watch her, her sense of betrayal deepens. It deepens still more when Emilio keeps putting off leaving her father and going away with her to some place of safety.
When her artist-employer Lucien dies in a suspected suicide, she fears the Emilio has something to do with it. Still in Montreal, Valentina becomes close to Lucien's young brother Marcel who is consumed with guilt about his brother's death. Formerly drunk and drugged, Marcel turns over a new leaf after his brother's death. He and Valentina slowly become friends. He agrees to help her when she decides to return to Miami to confront her father.
With more surprising revelations, her trip to Miami, and Marcel's role in it, changes her life again. This was a powerful story about a young woman who has to figure out who she is and what she wants out of her life. I really liked Valentina and could understand the choices that she made.
Thriller and romance lovers will enjoy this great story.
Favorite Quote:
But when you've known something forever, you don't see the evidence against it, not even when it's sprouting all around you, blooming and strangling like noxious weeds. Really. You don't. It's only after, looking back, that you see the choking innocents, and then you hate yourself.
I got this ARC from Edelweiss.
You can buy your copy here
.