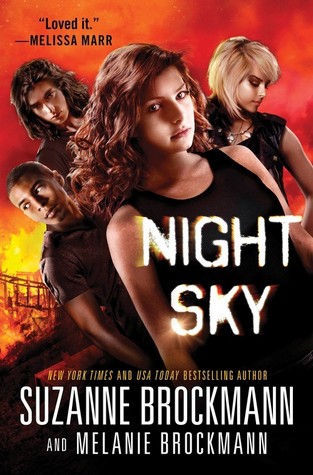 Night Sky
Authors:
Melanie Brockmann, Suzanne Brockmann
Series:
Night Sky (Book 1)
Publication:
Sourcebooks Fire (October 7, 2014)
Description: SHE'S THE ULTIMATE WEAPON IN FIGHTING DESTINY.
New York Times
and
USA Today
bestselling author Suzanne Brockmann and her daughter Melanie Brockmann have written a pulse-pounding novel of paranormal suspense set in a near future both fantastic and frightening. "Original and exciting, NIGHT SKY propels readers into a dangerous future. Loved it." —Melissa Marr,
New York Times
bestselling author of
Made For You
and the Wicked Lovely series
Skylar Reid is shaken when Sasha, the little girl she babysits, is kidnapped. Scared that the weird dreams she's been having about Sasha are real-and even more afraid that Sasha is already dead. When a mysterious girl with extreme butt-kicking abilities roars into town on a motorcycle and, well, stalks Skylar things get even weirder. Supergirl Dana tells Sky that she also has abilities – that a hormone in their blood makes them stronger, faster, smarter. A hormone that the makers of a new drug called Destiny will murder to get their hands on.
Dana and Milo, her dangerously hot yet oh-so-forbidden partner in crime, want Sky to join them in their mission – to mold Sky into the ultimate weapon. She can sense there's something about her abilities they're not telling her. But the only way to save Sasha and stop other girls from being taken is to embrace the weird...and fight Destiny.
My Thoughts:
This science fiction story takes place in a near future United States. The economy has tanked creating a sharp divide between the haves and have-nots. Skylar Reid is a have. She and her best friend Calvin have what they need and attend a private academy. Things aren't perfect for them. Skylar's mother is overprotective and Calvin is in a wheelchair as a result of a car accident when he was younger.
When the young girl Skylar babysits for is kidnapped, Skylar is determined to find her. She is having weird dreams and odd things are happening around her. She meets a kickass young woman named Dana who tells her that she is a Greater Than - she can do extraordinary things because of a hormone that lets her use more of her brain. This hormone is the basis for the currently popular drug Destiny. Destiny is insanely expensive, instantly addictive, and can cure diseases and restore a person's youth.
Dana tells Skylar that Sasha was also a Greater Than and that she was probably killed having her blood drained to make the drug. But Skylar doesn't believe that Sasha is dead. She has recurring visions about her Dana tries to convince her that she is seeing the past.
Dana and her friend Milo are trying to track down the makers of Destiny. Dana wants revenge because they kidnapped her younger sister and framed her father for her murder years ago. Dana wants to train Skylar in her abilities so that she can help Dana find the producers of this drug.
There is a romance in the story too. Skylar falls for Milo but feels really, really guilty because she is sure that Dana and Milo are in a relationship. One of Skylar's gifts is to be able to communicate telepathically with Milo when she touches him. It is really hard for her to keep him from knowing how she feels about him especially when Milo seems to be feeling the same way about her.
The story was action packed and also filled with typical teenage stuff too. The star of the football team is bullying Calvin and wants to date Skylar. Skylar's scenes with Garrett add some humor to the story which is, otherwise, pretty dark. I liked Skylar and Calvin's relationship. They were great friends.
Fans of science fiction and fans of thrillers will enjoy this story.
Favorite Quote:
"Sky?" he finally said, watching the road as he drove—slowly and carefully this time. "Sometimes people suck. Things suck. A lot of it really sucks." He glanced at me, his eyes so serious I had to look down. "And when that happens, after you've exhausted all your resources, the only thing you have left is laughter." He pulled inot the school and slugged his car into Park. "And in this life, I plan to laugh my damn ass off."
I received this eARC from NetGalley.
You can buy your copy here
.