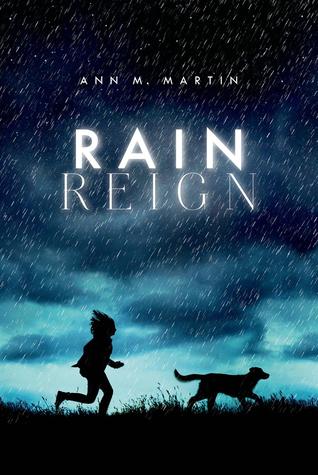 Rain Reign
Author:
Ann M. Martin
Publication:
Feiwel & Friends (October 7, 2014)
Description:
Rose Howard is obsessed with homonyms. She's thrilled that her own name is a homonym, and she purposely gave her dog Rain a name with two homonyms (Reign, Rein), which, according to Rose's rules of homonyms, is very special. Not everyone understands Rose's obsessions, her rules, and the other things that make her different – not her teachers, not other kids, and not her single father.
When a storm hits their rural town, rivers overflow, the roads are flooded, and Rain goes missing. Rose's father shouldn't have let Rain out. Now Rose has to find her dog, even if it means leaving her routines and safe places to search.
Hearts will break and spirits will soar for this powerful story, brilliantly told from Rose's point of view.
My Thoughts:
I really enjoyed RAIN REIGN. This is a touching story told by a girl named Rose who happens to be high functioning autistic. She is bright and verbal but she is also obsessed with homonyms, rules, and prime numbers. Rose has trouble at school connecting with other kids but she has no trouble connecting with her dog Rain.
Her father brought Rain home one rainy night and they have been fast friends ever since. But then a superstorm hits and Rose's father lets Rain out without her collar on. Rain doesn't come back. Once the storm passes, Rose develops a plan to find her dog. She makes a make and locates all the animal shelters within 50 miles. She makes phone calls and often repeated phone calls checking for her missing dog.
One day, the Happy Tails shelter says that they have found her dog. But there is a problem. When Rose arrives with her Uncle Weldon, she learns that Rain has a microchip that says her name is Olivia and that she belongs to the Hendersons. Because Rose is also an obsessive rule follower, she next goes on a quest to find the Hendersons who have been displaced by the storm and return their missing dog. Rose decides that it is only fair to give up her friend.
Since this story is told from Rose's viewpoint and in her voice, the sentences are short, precise and direct. We can easily see when she is getting sidetracked by her obsessions. There isn't much about Rose's feelings. She doesn't like to touch people and can't articulate how she feels. She has a great relationship with her uncle who seems to understand her and love her despite her peculiarities. Her relationship with her father is more problematical. Readers can see his frustrations with her and can see that Rose is a little bit afraid of him. He has anger issues but has never hit her though it appears he has come close.
Readers who are interested in how autistic people see the world will enjoy this story. So will fans of stories of kids and dogs.
Favorite Quote:
By the time my father and I go to bed I realize that Rain has been missing for 37 hours, another number that is prime but not good.

I lie in my bed wearing layers of clothes because the house is so cold. I listen to the rushing water outside.

For the first time I think that maybe Rain has gotten so lost that she won't be able to find her way home after all.
I got this ARC from Macmillan.
You can buy your copy here.