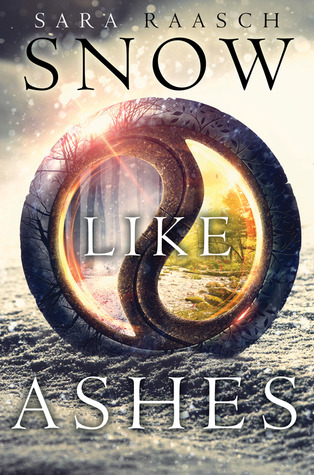 Snow Like Ashes
Author:
Sara Raasch
Series:
Snow Like Ashes (Book 1)
Publication:
Balzer + Bray (October 14, 2014)
Description:
Game of Thrones
meets
Graceling
in this striking fantasy tale of dark magic, dangerous politics, and discovering your true self. Sara Raasch's debut fantasy is a lightning-fast story of loyalty, love, and controlling one's destiny.
Sixteen years ago the Kingdom of Winter was conquered and its citizens enslaved, leaving them without magic or a monarch. The Winterians' only hope for freedom is the eight survivors who managed to escape, and who have been searching for the opportunity to steal back Winter's magic and rebuild their kingdom ever since.
Orphaned as an infant during Winter's defeat, Meira has lived her whole life as a refugee. Training to be a warrior—and desperately in love with her best friend, Winter's future king—she would do anything to help Winter rise to power again. So when scouts discover the location of half of the ancient locket that can restore their magic, Meira decides to go after it herself—only to find herself thrust into a world of evil magic and dangerous politics, and to realize that her destiny is not, never has been, her own.
My Thoughts:
SNOW LIKE ASHES was an engaging epic fantasy about a young woman who was orphaned as an infant when her country was being invaded and who has lived as a refugee for the past sixteen years. She has been training as a soldier along with the sixteen-year-old king under the supervision of one of Winter's generals. She calls him Sir and would do anything to make him proud of her.
Meira and the other seven survivors of the fall of Winter are trying to locate the locket that is the conduit for Winter's magic despite the fact that the only heir is male and the power can only be used by a female. When the attempt to regain half the locket is successful, Meira thinks the problem is near a solution. But the Spring soldiers have managed to track them back to their camp. The only solution is flight to one of the other kingdoms. But the King of Cordell wants more than the survivors of Winter can give.
Meira finds herself engaged to Prince Theron of Cordell despite her lifelong love for the Winter King - a love she knows is hopeless because of their differing social statuses. And when the King of Cordell betrays Winter to the evil Spring King, Meira finds herself captive and in Angra, the king of Spring's, control.
There are all sorts of secrets, lots of political maneuvering and even romance in this fast-paced epic fantasy story that will appeal to a wide range of readers.
Favorite Quote:
"I brought your half of the locket!" I shout. "What else do I have to do?"

Please, tell me what I have to do to feel like I belong.
I got this ARC from Edelweiss. You can buy your copy here.