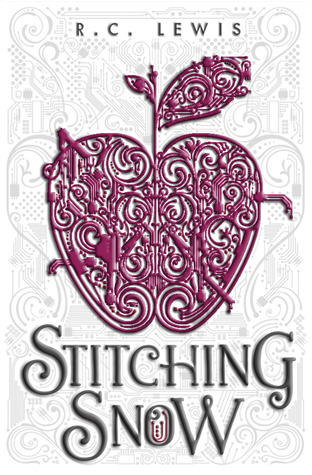 Stitching Snow
Author:
R. C. Lewis
Publication:
Disney-Hyperion (October 14, 2014)
Description:
Princess Snow is missing.
Her home planet is filled with violence and corruption at the hands of King Matthias and his wife as they attempt to punish her captors. The king will stop at nothing to get his beloved daughter back-but that's assuming she wants to return at all.
Essie has grown used to being cold. Temperatures on the planet Thanda are always sub-zero, and she fills her days with coding and repairs for the seven loyal drones that run the local mines.
When a mysterious young man named Dane crash-lands near her home, Essie agrees to help the pilot repair his ship. But soon she realizes that Dane's arrival was far from accidental, and she's pulled into the heart of a war she's risked everything to avoid.
In her enthralling debut, R.C. Lewis weaves the tale of a princess on the run from painful secrets . . . and a poisonous queen. With the galaxy's future-and her own-in jeopardy, Essie must choose who to trust in a fiery fight for survival.
My Thoughts:
STITCHING SNOW was an exciting and engaging science fiction story. It begins on a cold mining planet with our heroine Essie doing cage fighting to make extra credits, repairing mining droids and generally trying to stay under the radar. Her attempt is foiled when a ship crash lands near her and she rescues the pilot Dane.
While helping Dane repair his ship, she gets to know him and consider him a friend. Things change when he kidnaps her. It turns out that he came to the planet looking for her and that she is the daughter of the King of Windsong. Everyone thinks that she was kidnapped by the Exiles but Essie knows that she escaped from the palace to keep from being killed by her stepmother.
Dane is an Exile who wanted to use Essie to trade for the Exile prisoners who were taken after Essie disappeared. One of the Exiles who were imprisoned is his father. Together Essie and Dane come up with a plan for them to defeat the evil king and the even more evil queen. Essie has no desire to be queen but she does have the memories of her mother telling her to do what she can to help the people of Windsong.
The story is also a romance but not a trouble-free romance. Essie has no experience with love except the love she shared with her dead mother. She had been abused by her father the king in the name of love. Then, the fact that Dane kidnapped her didn't make her very sympathetic to him. She goes from friendship to hatred to love. Dane doesn't have it easy either. He had some misconceptions about Essie that he had to get over.
I especially liked that Essie had made friends of the mine droids that she worked on. Dimwit was the one who managed to accompany them when they began their quest to overthrow the king and queen. I liked watching Essie use her skill with computers to make her plans work. I like the way Essie reconciled herself to her new role and I loved the way her relationship with Dane developed.
Fans of science fiction and romance will enjoy this epic fantasy.
Favorite Quote:
I was terrified Dane would kiss me again. I was also terrified he wouldn't. Mostly that he would and I'd have to hit him. Maybe.

How does that make any kind of sense?
I got this ARC from NetGalley.
You can buy your copy here
.