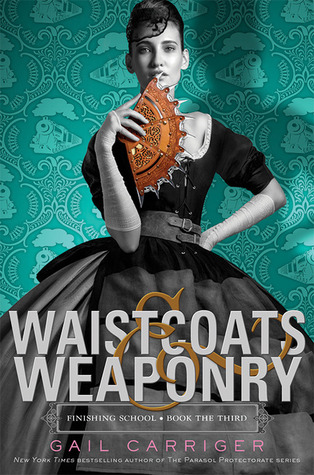 Waistcoats & Weaponry
Author:
Gail Carriger
Series:
Finishing School
Publication:
Little, Brown Books for Young Readers (November 4, 2014)
Description:
Class is back in session...
Sophronia continues her second year at finishing school in style--with a steel-bladed fan secreted in the folds of her ball gown, of course. Such a fashionable choice of weapon comes in handy when Sophronia, her best friend Dimity, sweet sootie Soap, and the charming Lord Felix Mersey stowaway on a train to return their classmate Sidheag to her werewolf pack in Scotland. No one suspected what--or who--they would find aboard that suspiciously empty train. Sophronia uncovers a plot that threatens to throw all of London into chaos and she must decide where her loyalties lie, once and for all.
Gather your poison, steel tipped quill, and the rest of your school supplies and join Mademoiselle Geraldine's proper young killing machines in the third rousing installment in the
New York Times
bestselling Finishing School Series by steampunk author, Gail Carriger.
My Thoughts:
In this exciting third episode of the Finishing School series, Sophronia and her friends Sidheag, Soap, and Lord Felix have to make some life-altering decisions. They are all about sixteen and thoughts of their futures are intruding on their educations.
Sophronia is trying to decide where she should seek patronage after she leaves school. She is being wooed by Lord Akeldama and is also being encouraged by the one who set her on the course to this school to adopt the Queen as her patron. Sophronia is torn. She is trying to ease her young suitor Lord Felix away from his father's party - the Picklemen, who are opposed to the supernaturals in society.
She is also fighting her feelings for her old friend Soap but he doesn't fit into society at all. He is African and is a sootie who works in the bowels of her floating school. He knows that their social classes prohibit any relationship but it doesn't stop his longing for her. His solution is to become a werewolf which would be remove some of the barriers. But Sophronia is aware that trying to become a werewolf is a huge gamble and she's afraid for her friend.
Meanwhile, the story takes place on a train that the kids have hijacked in their quest to help Sidheagb get home to her pack in Scotland. It just so happens that the train is being run by some vampire drones who are tracking suspicious Pickleman activity.
Various actions in this story help Sophronia decide where her true loyalties lie and what her future should be. Look out, bad guys! Sophronia is an opponent to be reckoned with.
Favorite Quote:
Soap saw her looking at him, her green eyes grave and pleading. He tilted his head at her in query. But there was no privacy to ask him anything. An uninformed decision had to be made. Fortunately, uninformed decisions were Sophronia's specialty.
I got this eARC from NetGalley. You can buy your copy here.