Happy Friday everybody!!
Book Beginnings on Friday is now hosted by Rose City Reader.
The Friday 56
is hosted at
Freda's Voice. Check out the links above for the rules and for the posts of the participants each week.
Don't dig for your favorite book, the coolest, the most intellectual. Use the CLOSEST.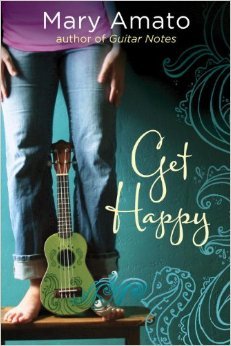 This week I am spotlighting Get Happy by Mary Amato. I got this eARC from Edelweiss to help further my goal of reading more contemporary YA. Here is the description of this Oct. 28 release:
In this poignant, realistic, contemporary YA by a state master list star, perfect for fans of Sarah Dessen and Gayle Forman, a young songwriter builds a substitute family with her friends in place of the broken family she grew up with.

Minerva has been raised by her single mother after her father left them both. On her 17th birthday, she is shocked to discover that he has been trying to keep in touch, but her mother has been sabotaging his attempts. Furious at her mom, she begins to investigate her dad, a famous marine biologist, only to discover that he has a new family, including a beloved, and perfect, stepdaughter--a girl Minerva already knows and despises. As she makes her way, trying to build her performing and songwriting career, her jealousy takes over and threatens to derail her life completely. It is only through the efforts of her best friend, Fin, and the introduction of Hayes, a new young man in her life, that she is able to see clearly who she is and who makes up her family.
Beginning:
It starts with the gift. Please don't judge me, but I could tell by the shape and size of the box that it wasn't a ukulele and I felt a little piece of my soul start to drown.
Friday 56:
The vice principal walked out, eyeballing us and the other vagrants who didn't want to go inside. "School is starting, people. You have thirty seconds."