Teaser Tuesdays is a weekly bookish meme, hosted by MizB of
Should Be Reading
. Anyone can play along! Just do the following:
Open to a random page
Share two (2) "teaser" sentences from somewhere on that page
BE CAREFUL NOT TO INCLUDE SPOILERS! (make sure that what you share doesn't give too much away! You don't want to ruin the book for others!)
Share the title and author, too, so that other TT participants can add the book to their TBR Lists if they like your teasers!
Teaser:
"Agent Briggs is back," I said once I'd straightened.

"Thank God," Lia dropped the act and slumped back against the sofa. "Though if anyone tells him I said that, I'll be forced to take drastic measures."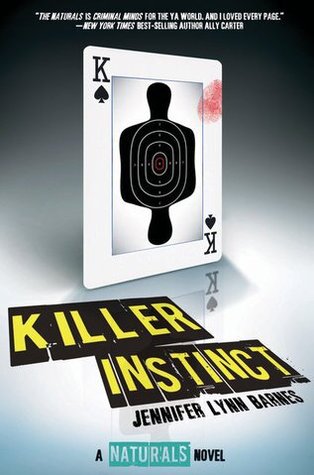 This week my teaser comes from
Killer Instinct
by Jennifer Lynn Barnes. This is the sequel to
The Naturals
which is about a group of young people who are part of an elite FBI experiment. The book will be released on November 4. Here is the description:
Seventeen-year-old Cassie Hobbes has a gift for profiling people. Her talent has landed her a spot in an elite FBI program for teens with innate crime-solving abilities, and into some harrowing situations. After barely escaping a confrontation with an unbalanced killer obsessed with her mother's murder, Cassie hopes she and the rest of the team can stick to solving cold cases from a distance.

But when victims of a brutal new serial killer start turning up, the Naturals are pulled into an active case that strikes too close to home: the killer is a perfect copycat of Dean's incarcerated father-a man he'd do anything to forget. Forced deeper into a murderer's psyche than ever before, will the Naturals be able to outsmart the enigmatic killer's brutal mind games before this copycat twists them into his web for good?

With her trademark wit, brilliant plotting, and twists that no one will see coming, Jennifer Lynn Barnes will keep readers on the edge of their seats (and looking over their shoulders) as they race through the pages of this thrilling novel.