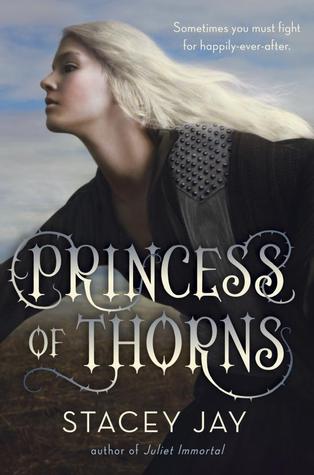 Princess of Thorns
Author:
Stacey Jay
Publication:
Delacorte Press (December 9, 2014)
Description:
Game of Thrones
meets the Grimm's fairy tales in this twisted, fast-paced romantic fantasy-adventure about Sleeping Beauty's daughter, a warrior princess who must fight to reclaim her throne.
Though she looks like a mere mortal, Princess Aurora is a fairy blessed with enhanced strength, bravery, and mercy yet cursed to destroy the free will of any male who kisses her. Disguised as a boy, she enlists the help of the handsome but also cursed Prince Niklaas to fight legions of evil and free her brother from the ogre queen who stole Aurora's throne ten years ago
Will Aurora triumph over evil and reach her brother before it's too late? Can Aurora and Niklaas break the curses that will otherwise forever keep them from finding their one true love?
My Thoughts:
There were many parts of this story that I really enjoyed. I liked the quest and the growing friendship between Aurora and Niklaas. I liked the way they bantered and hid their secret, vulnerable places. There were also things I didn't like about this story. I thought it was slow paced and I got tired of both Aurora and Niklaas constantly misunderstanding each other. I couldn't see how two supremely stubborn people could ever bend enough to have a relationship.
The basic story has Princess Aurora disguising herself as a boy and attempting to rescue her younger brother Jor from his captivity. He is being held captive by the Queen of the ogres. The ogres - especially Illestros - are trying to bring about a prophecy and need briar-born and fairy-blessed Aurora to complete it. In her disguise, Ror meets Prince Niklaas who is determined to meet and marry Aurora to break the curse that dooms him to turn into a swan on his eighteenth birthday. Of course, he doesn't share this information with Ror and tries to convince Ror that his sister will be swept away by his charms.
Aurora knows that her fairy curse forbids her from ever marrying. One kiss from her takes away her groom's free will and leaves a person who exists only to please her. She has her first love Thyne as the example of what happens when someone loves her. These two young people, who are falling in love with each other, are separated by the curses each carries and keeps secret.
Fans of epic fantasy, adventure, and romance, and who can persist through a slow start, will enjoy this tale.
Favorite Quote:
"But that's what searching for love is like. You keep pushing on, breaking and being broken, until you find the person you want to hold safe, the only one who knows how to keep you in one piece."
I got this eARC for review from NetGalley. You can buy your copy here.