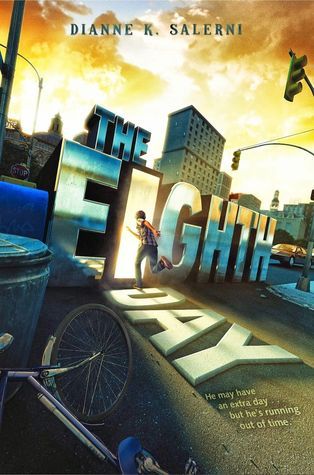 The Eighth Day
Author:
Dianne K. Salerni
Series:
The Eighth Day (Book 1)
Publication:
HarperCollins (April 22, 2014)
Description:
In this riveting fantasy adventure, thirteen-year-old Jax Aubrey discovers a secret eighth day with roots tracing back to Arthurian legend. Fans of Percy Jackson will devour this first book in a new series that combines exciting magic and pulse-pounding suspense.
When Jax wakes up to a world without any people in it, he assumes it's the zombie apocalypse. But when he runs into his eighteen-year-old guardian, Riley Pendare, he learns that he's really in the eighth day—an extra day sandwiched between Wednesday and Thursday. Some people—like Jax and Riley—are Transitioners, able to live in all eight days, while others, including Evangeline, the elusive teenage girl who's been hiding in the house next door, exist only on this special day.
And there's a reason Evangeline's hiding. She is a descendant of the powerful wizard Merlin, and there is a group of people who wish to use her in order to destroy the normal seven-day world and all who live in it. Torn between protecting his new friend and saving the entire human race from complete destruction, Jax is faced with an impossible choice. Even with an eighth day, time is running out.
Stay tuned for
The Inquisitor's Mark
, the spellbinding second novel in the Eighth Day series.
My Thoughts:
THE EIGHTH DAY was a very engaging fantasy adventure. Thirteen-year-old Jax Aubrey is recently orphaned and living with a guardian who isn't much older than he is. He is having a hard time adjusting. It gets even harder when he wakes up one morning to find an empty world. He is frightened and confused. There are no people; there is no electricity; the sky looks weird.
When he is awakened by his guardian Riley the next morning, it is as if nothing happened. When it happens again the next week, Riley is there too. Jax soon learns that only certain people are able to live on the eighth day. Transitioners like him and like Riley who are descendants of King Arthur, Merlin and the Knights of the Round table live all eight days. The Kin are trapped there and live only on that eighth day.
Jax meets and befriends a girl who is living next door and who only lives on the eighth day. Evangeline is a descendant of Merlin. Riley is either her protector or jailer depending on your point of view. Jax feels sorry for her and decides to make her his friend. But evil forces among the Kin want to find Evangeline and use her to free themselves from being imprisoned on the eighth day.
This story was a real page-turner. I couldn't put it down. I really liked Jax and Evangeline and got to like Riley more when he started to open up to Jax about what was going on. I can't wait to read the sequel.
Favorite Quote:
"Jax." She gripped the doorknob tightly, steeling herself. "I want you to leave me alone. No more messages or gifts. No lawn parties, no electricity. Just stop."

He wilted. Evangeline bit her lip. It wasn't his fault, and she owed him an explanation. "Your life goes by so fast for me," she said. "I only catch glimpses of it, and I can't participate."

"Oka-a-ay." he said, his brow furrowed. "But I don't understand why we can't be friends."

"Because it hurts, Jax."
I bought this one.
You can buy your copy here
.