Happy Friday everybody!!
Book Beginnings on Friday is now hosted by Rose City Reader.
The Friday 56
is hosted at
Freda's Voice. Check out the links above for the rules and for the posts of the participants each week.
Don't dig for your favorite book, the coolest, the most intellectual. Use the CLOSEST.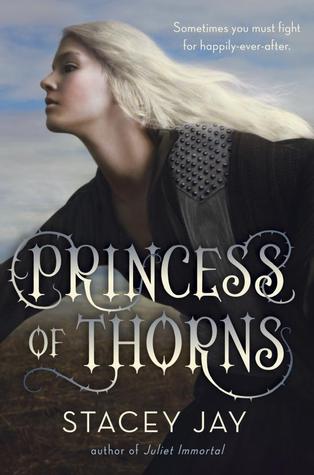 This week I am spotlighting Princess of Thorns by Stacey Jay. I got this eARC from NetGalley for review. Here is the description:
Game of Thrones meets the Grimm's fairy tales in this twisted, fast-paced romantic fantasy-adventure about Sleeping Beauty's daughter, a warrior princess who must fight to reclaim her throne.

Though she looks like a mere mortal, Princess Aurora is a fairy blessed with enhanced strength, bravery, and mercy yet cursed to destroy the free will of any male who kisses her. Disguised as a boy, she enlists the help of the handsome but also cursed Prince Niklaas to fight legions of evil and free her brother from the ogre queen who stole Aurora's throne ten years ago.

Will Aurora triumph over evil and reach her brother before it's too late? Can Aurora and Niklaas break the curses that will otherwise forever keep them from finding their one true love?
Beginning:
Having discovered the secret to eternal life, and jealous of his throne, the immortal king summoned a witch to the castle and ordered her to curse his eleven sons, ensuring that none would live past their eighteenth birthday, the age at which a Kanvasol prince may become king.
Friday 56:
"They sent a lock of hair," Illestros says. "My divinations confirm it belong to one briar-born."

"Then it is the girl." Our relief is tinged with only a hint of fear. "And she is blessed with strength in battle. Will this knowledge be enough?"