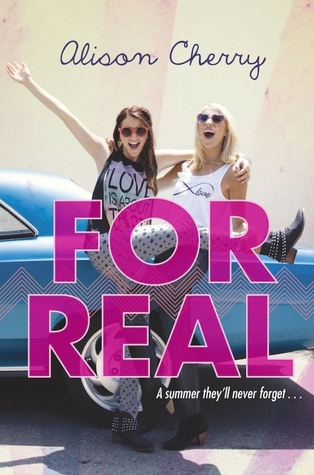 For Real
Author:
Allison Cherry
Publication:
Delacorte Press (December 9, 2014)
Description:
From Alison Cherry, author of
Red,
a novel
PW
declares "sparkles with wit," comes a terrific new book about two sisters and one big question: how do you know who's for real?
No parents. No limits. No clue what they're in for.
Shy, cautious Claire has always been in her confident older sister's shadow. While Miranda's life is jam-packed with exciting people and whirlwind adventures, Claire gets her thrills vicariously by watching people live large on reality television.
When Miranda discovers her boyfriend, Samir, cheating on her just after her college graduation, it's Claire who comes up with the perfect plan. They'll outshine Miranda's fame-obsessed ex while having an amazing summer by competing on
Around the World,
a race around the globe for a million bucks. Revenge + sisterly bonding = awesome.
But the show has a twist, and Claire is stunned to find herself in the middle of a reality-show romance that may be just for the cameras. This summer could end up being the highlight of her life . . . or an epic fail forever captured on film. In a world where drama is currency and manipulation is standard, how can you tell what's for real?
My Thoughts:
When older sister Miranda's college boyfriend Samir is caught cheating on her at her college graduation it is younger sister Claire who comes up with the perfect plan for revenge. Claire is a big fan of reality television and wants to work in television herself when she finishes college. When she learns that Samir has auditioned for a reality TV show, she convinces Miranda to try out with her for the same show to get revenge.
While waiting in line for the casting call, Claire meets Will Devine who is also trying out. Both teams are chosen but Claire and Miranda are surprised to find out that it is a dating show and that the two of them won't be partners. Miranda is doing all she can to avoid ever having Samir as a partner and Claire is doing all she can to have Will as a partner. This causes a lot of friction between Claire and Miranda. And, along the way, Claire forgets for a while that everyone on the show is acting - especially Will.
It was fun to watch the teams travel around the world and take part in "romantic" challenges that mimicked wedding customs. I particularly enjoyed the one where they had to find a ring attached to a goat's foot in a pen with lots of goats. I also liked the challenge when Claire had to dress in white and be smeared with goo by her partner. Along the way Claire comes out of her shell and learns that she is a strong, confident young woman. Not only does she have to convince her older sister that this is true but she also has to convince herself.
This was a fun story with lots of great lines and a great message too.
Favorite Quote:
"Let's see who's casting right now?"

"Miranda would never go for it, though. She thinks reality TV is, like, the entertainment equivalent of eating Twinkies."

Nat looks puzzled. "Twinkies are delicious."

"And this is why you're my friend. But Miranda's more of a crème brûlée girl."
I got this eARC from NetGalley. You can buy your copy here.