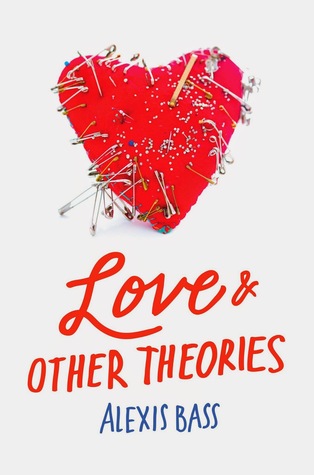 Love & Other Theories
Author:
Alexis Bass
Publication:
HarperTeen (December 30, 2014)
Description:
Love and Other Theories
is a fast-paced twist on the coming-of-age novel . . . and the romantic comedy.
Aubrey and her best friends made a pact to play by the guys' rules when it comes to dating. They're hoping the rules will keep them from experiencing high school heartbreak—they don't realize that these rules could just as easily keep them from opening their hearts and minds. And when new boy Nathan Diggs moves to town, Aubrey starts to think that some rules are meant to be broken.
With equal parts bite and romance, topped off with an irresistibly engaging voice, Alexis Bass's debut novel is one you won't want to miss.
My Thoughts:
This first person narrative by a debut author tells the story of a girl's last semester in high school with all the drama and heartbreak that that entails. Brey has had an early acceptance at the college of her choice and has decided that her last semester is time to relax from the constant-studying that gained her acceptance.
She and her best friends Shelby, Melissa and Danica decided at the start of their junior year that they were going to treat high school relationships that ways boys did. They were going to love 'em and leave 'em and never get emotionally involved. Their plan has been working pretty well for them until Nathan Diggs enrolls. He's gorgeous and he's also been accepted to the same college as Brey.
Brey tries to keep playing by the old rules, but something about Nathan makes it hard.
I found a lot of this book troubling. I didn't like the girls' careless attitudes toward relationships. I didn't like that they lumped all boys into the heartless loser category. I also didn't like all the drinking and casual sex that filled this book. It all felt hollow to me - all bodies, and no hearts.
One thing that I did find realistic about the story was that ending high school is a time of great change for most seniors. Friendships change as goals and plans separate groups that have been together for years. Brey tells us that that last semester is a time filled with good-byes.
I would recommend this one to older YAs and would like to talk to some of them about their high school experiences. My high school days are far behind but I don't remember this much drama (or drinking.)
Favorite Quote:
You're probably thinking I should be furious at Shelby. She obviously wants Nathan. But who wouldn't? If I've learned anything, it's that in high school everyone is fair game. If you want to lose friends over it, get ready to be friendless.
I got this eARC from Edelweiss for review.
You can buy your copy here
.