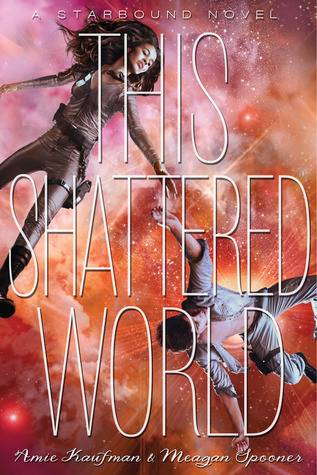 This Shattered World
Authors:
Amie Kaufman and Megan Spooner
Series:
Starbound, Book 2
Publication:
Disney Hyperion (December 23, 2014)
Description:
Jubilee Chase and Flynn Cormac should never have met. Lee is captain of the forces sent to Avon to crush the terraformed planet's rebellious colonists, but she has her own reasons for hating the rebels. Rebellion is in Flynn's blood. His sister died in the original uprising against the powerful corporations that terraformed Avon. These corporations make their fortune by terraforming uninhabitable planets across the universe and recruiting colonists to make the planets livable, with the promise of a better life for their children. But they never fulfilled their promise on Avon, and decades later, Flynn is leading the rebellion. Desperate for any advantage in a bloody and unrelentingly war, Flynn does the only thing that makes sense when he and Lee cross paths: he returns to base with her as prisoner. But as his fellow rebels prepare to execute this tough-talking girl with nerves of steel, Flynn makes another choice that will change him forever. He and Lee escape base together, caught between two sides of a senseless war. As Flynn and Lee attempt to uncover the truth about Avon, they realize that there is a conspiracy on the planet that runs deeper than either of them could imagine, one that Lee's former commander Tarver Merendsen only scratched scratched the surface of two years ago. The stunning second novel in the Starbound series is an unforgettable story of love and forgiveness in a world torn apart by war.
My Thoughts:
THIS SHATTERED WORLD is the second book in a trilogy. It is also a standalone romance novel and science fiction thriller. Captain Jubilee Chase is assigned to Avon where most soldiers rotate in and out frequently because otherwise they fall victim to the Fury - which steals their minds and causes them to commit various acts of mayhem. For some reason Lee is immune to the effects. Lee doesn't dream and hasn't since she was eight and saw her parents murdered in a revolution on her home planet. As soon as she could, she decided to join the military to keep the peace and stop that sort of revolution from happening again.
Flynn Cormac is one of the rebels on Avon though he is actually a peacemaker at heart. He is part of the rebel group because his sister led the rebels before she was caught and executed ten years earlier. Flynn wants to try to preserve the current cease fire and decides that kidnapping Captain Chase would be a way to force concessions out of the military.
However, things don't work like he hopes. He gets to know Lee and she gets to know him. Despite being enemies, they find that they have lots of things in common. Both would like a peaceful resolution to the situation on Avon. That situation is being complicated by the secret maneuverings of the richest man in the galaxy who is using Avon to conduct experiments on the populace using some alien creatures he has trapped in this universe.
I really enjoyed the romance in this action-packed story. I also enjoyed the seeing Tarver Merendsen again as he comes to the planet at the request of one of his former soldiers - Jubilee Chase. They work together to try to expose Roderick LaRoux and his dastardly plot.
I can't wait for the third book in this series to find out how this whole situation is resolved.
Favorite Quote:
"Oh, Jubilee." My resolve shatters and my hand slides toward hers. She doesn't pull away, but she doesn't look up either, watching my fingers curling through hers. "Hearts and souls and how they break? That's all Avon teaches anyone."
I received this eARC from NetGalley for review. You can buy your copy here.