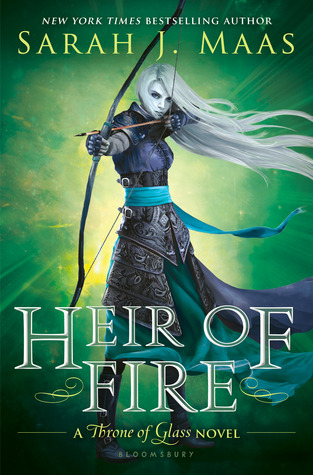 Heir of Fire
Author:
Sarah J. Maas
Series:
Throne of Glass
Publication:
Bloomsbury USA Childrens (September 2, 2014)
Description:
Celaena has survived deadly contests and shattering heartbreak—but at an unspeakable cost. Now, she must travel to a new land to confront her darkest truth . . . a truth about her heritage that could change her life—and her future—forever. Meanwhile, brutal and monstrous forces are gathering on the horizon, intent on enslaving her world. Will Celaena find the strength to not only fight her inner demons, but to take on the evil that is about to be unleashed?
The bestselling series that has captured readers all over the world reaches new heights in this sequel to the
New York Times
best-selling
Crown of Midnight
. Packed with heart-pounding action, fierce new characters, and swoon-worthy romance, this third book will enthrall readers from start to finish.
My Thoughts:
I finished
Throne of Glass
on July 11, 2012, and
Crown of Midnight
on August 16, 2013 so I found myself floundering as I began reading this book. There were so many characters and not enough information to refresh my memory about earlier events. I did keep reading because there were some shining nuggets of beautiful writing to carry me until I caught up with the world. This book definitely reads like the middle book of a trilogy to me. Much of the action in the story is internal. Characters are growing and changing.
My favorite pieces, and the pieces that ripped my heart out, were the sections where Celaena is trying to learn her magic, get over her crushing guilt, and overcome her sense that she is worthless. Personally, I think she is depressed but that isn't something that residents of her fantasy world would know. It was very interesting watching her relationship with Rowan change through the book even though it was sometimes the reason for Celaena's heartbreak.
Speaking of relationships, it was also interesting watching Manon form a relationship with her wyvern Abraxos. Manon was an interesting character to me because of her background as a witch and the way she saw herself, and valued herself, as mean, cruel, and heartless. It will be interesting to see how her story plays out in the next book.
While Celaena and Manon are far distant from each other, watching the stories of Darion, Chaol, and Aedion interweave since they are in the same physical location was also interesting. Chaol is the character who seems most ambiguous to me. I had a hard time figuring out what he was about. He seemed to be trying so hard not to commit.
I will be eager to read the next book in this series. I hope I don't have such a long wait!
Favorite Quote:
He unfastened his cloak. "Because I said so, that's why." And she might have told him it was the worst gods-damned reason she had ever heard, and that he was an arrogant prick, had he not tossed her his cloak—dry and warm. Then he dropped is jacket in her lap, too.

When he turned to go back to the fortress, she followed him.
I bought this one.
You can buy your copy here
.