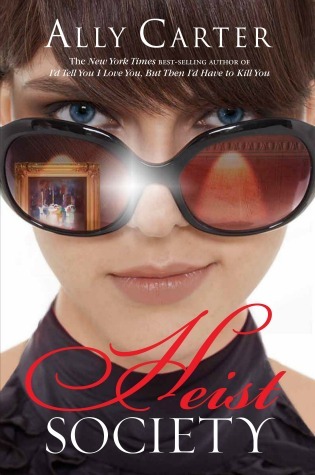 Heist Society
Author:
Ally Carter
Series:
A Heist Society Novel
Publication:
Disney-Hyperion; Reprint edition (May 17, 2011)
Description:
When Katarina Bishop was three, her parents took her on a trip to the Louvre…to case it. For her seventh birthday, Katarina and her Uncle Eddie traveled to Austria…to steal the crown jewels. When Kat turned fifteen, she planned a con of her own—scamming her way into the best boarding school in the country, determined to leave the family business behind. Unfortunately, leaving "the life" for a normal life proves harder than she'd expected.
Soon, Kat's friend and former co-conspirator, Hale, appears out of nowhere to bring Kat back into the world she tried so hard to escape. But he has a good reason: a powerful mobster has been robbed of his priceless art collection and wants to retrieve it. Only a master thief could have pulled this job, and Kat's father isn't just on the suspect list, he is the list. Caught between Interpol and a far more deadly enemy, Kat's dad needs her help.
For Kat, there is only one solution: track down the paintings and steal them back. So what if it's a spectacularly impossible job? She's got two weeks, a teenage crew, and hopefully just enough talent to pull off the biggest heist in her family's history--and, with any luck, steal her life back along the way.
My Thoughts:
HEIST SOCIETY was an excellent story about a well-planned caper and about a group of friends with unusual skills. Kat Bishop has decided to step away from her criminal family and has conned her way into an exclusive boarding school. But her side trip is ended when she is framed for a prank and expelled. Then she learns that her father has been accused of stealing a group of paintings from a very, very bad man and has only two weeks to return them.
The problem is that this time Bobby Bishop is innocent; he was pulling a much smaller heist in Paris at the time. He wants Kat to forget about it and stay with her safe boarding school life. But that ship has sailed and Kat along with Hale, who might be a boyfriend if they can ever stop sparring long enough to find out, her cousin Gabrielle and friends Angus, Simon and Hamish plan a way to get the paintings back.
I enjoyed this whole story. I loved the interactions between all the kids. I loved how conflicted Kat was about her old life and how much she wanted to start a new one. I loved her sense of family loyalty. I also loved that she was one very smart young lady who wasn't going to wait around for some man to rescue her.
I can't wait to finally read the rest of this series.
Favorite Quote:
"So who are your friends?" She turned back and sighed. "Local cops?"

"Interpol actually."

"Nice," Kat said, drawing out the word.

"I thought you'd be impressed."

"It's every little girl's dream," she said. "Interpol surveillance. And kittens."
I bought this one.
You can buy your copy here
.