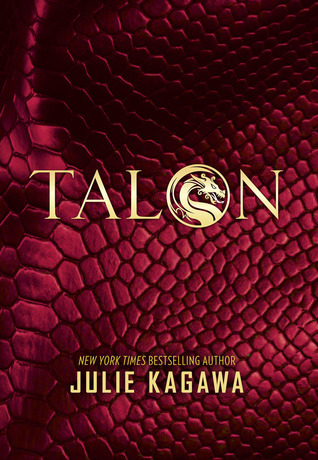 Talon
Author:
Julie Kagawa
Series:
The Talon Saga (Book 1)
Publication:
Harlequin Teen (October 28, 2014)
Description:
In Julie Kagawa's groundbreaking modern fantasy series, dragons walk among us in human form.
Long ago, dragons were hunted to near extinction by the Order of St. George, a legendary society of dragon slayers. Hiding in human form and growing their numbers in secret, the dragons of Talon have become strong and cunning, and they're positioned to take over the world with humans none the wiser.
Ember and Dante Hill are the only sister and brother known to dragonkind. Trained to infiltrate society, Ember wants to live the teen experience and enjoy a summer of freedom before taking her destined place in Talon. But destiny is a matter of perspective, and a rogue dragon will soon challenge everything Ember has been taught. As Ember struggles to accept her future, she and her brother are hunted by the Order of St. George
Soldier Garret Xavier Sebastian has a mission to seek and destroy all dragons, and Talon's newest recruits in particular. But he cannot kill unless he is certain he has found his prey—and nothing is certain about Ember Hill. Faced with Ember's bravery, confidence and all-too-human desires, Garret begins to question everything that the Order has ingrained in him—and what he might be willing to give up to find the truth about dragons.
My Thoughts:
Ember Hill and her brother Dante are young dragons who have been sent to Southern California to learn to live with humans. This is the first time they have spent any time near humans. At first, Ember is hesitant. She has been taught by Talon that humans are a lesser species. She doesn't understand the teenage humans that she meets at first but they welcome her into their group and teach her something that is almost as good as flying - surfing. She also learns to hang out and do things other teenagers do in the summer at the beach and gradually she learns to appreciate humans.
Then she meets a couple of different boys. Riley is a rogue dragon who has broken away from Talon and is on the run from them. Garrett is a young soldier who is also undercover. He is a soldier from St. George which is the organization determined to exterminate all dragons. Garrett is also a fish out of water. He doesn't know any more about ordinary teenage life than Ember does. His mission is to find the sleeper dragons and exterminate them. To determine if Ember is that dragon, he has to spend a lot of time with her. Spending time with her makes him see her as real and makes him begin to fall in love with her.
Meanwhile, Ember is undergoing training that is teaching her to defend herself from human soldiers and to hunt them too. She really dislikes her trainer and isn't as successful as her trainer would like because she persists in seeing the soldiers as soldiers. When she learns that the purpose of the training is to turn her into a Viper - a dragon who hunts down and executes rogues and members of St. George, she knows that she can't stay with Talon. Riley has been courting her to become a rogue like him but she has been hesitant because she didn't want to leave her brother.
In a sense this is a love triangle, Riley appeals to the dragon side of her while Garrett appeals to her human side. For me, though, this was more a coming-of-age story with two young people - Ember and Garrett - taking a look at what they had been taught by their organizations to believe and re-evaluating based on their experiences once they were given some freedom to see what was really outside their very sheltered lives.
Since the ending leaves one of the characters in a very perilous place, I can't wait to read the next book to find out what happens.
Favorite Quote:
The rogue dragon was trouble. Plain and simple.

And I was intrigued.
I bought this one. You can buy your copy here.