Happy Friday everybody!!
Book Beginnings on Friday is now hosted by Rose City Reader.
The Friday 56
is hosted at
Freda's Voice. Check out the links above for the rules and for the posts of the participants each week.
Don't dig for your favorite book, the coolest, the most intellectual. Use the CLOSEST.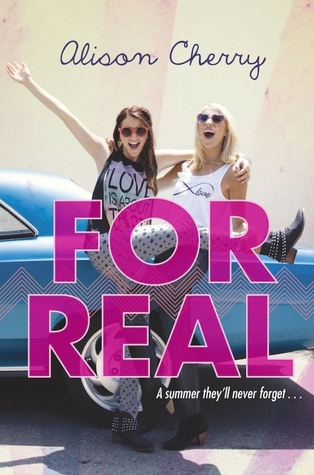 This week I am spotlighting For Real by Allison Cherry. I got this eARC from NetGalley for review. Here is the description:
From Alison Cherry, author of Red, a novel PW declares "sparkles with wit," comes a terrific new book about two sisters and one big question: how do you know who's for real?

No parents. No limits. No clue what they're in for.

Shy, cautious Claire has always been in her confident older sister's shadow. While Miranda's life is jam-packed with exciting people and whirlwind adventures, Claire gets her thrills vicariously by watching people live large on reality television.

When Miranda discovers her boyfriend, Samir, cheating on her just after her college graduation, it's Claire who comes up with the perfect plan. They'll outshine Miranda's fame-obsessed ex while having an amazing summer by competing on Around the World, a race around the globe for a million bucks. Revenge + sisterly bonding = awesome.

But the show has a twist, and Claire is stunned to find herself in the middle of a reality-show romance that may be just for the cameras. This summer could end up being the highlight of her life . . . or an epic fail forever captured on film. In a world where drama is currency and manipulation is standard, how can you tell what's for real?
Beginning:
On the tiny screen of my phone, I watch Jayden Montoya grill grubs over a campfire,
Friday 56:
"Think of what Samir's face is going to look like when he gets eliminated because of us," I say, and she finally smiles.