Teaser Tuesdays is a weekly bookish meme, hosted by MizB of
Should Be Reading
. Anyone can play along! Just do the following:
Open to a random page
Share two (2) "teaser" sentences from somewhere on that page
BE CAREFUL NOT TO INCLUDE SPOILERS! (make sure that what you share doesn't give too much away! You don't want to ruin the book for others!)
Share the title and author, too, so that other TT participants can add the book to their TBR Lists if they like your teasers!
Teaser:
Still, the new ones know by the end of their first week not to hit on Captain Chase, even when she's at Molly Malone's. I'm not interested, and they know it. Eighteen is pretty young to take yourself off the market, but it's safer to send them all the same message from day one.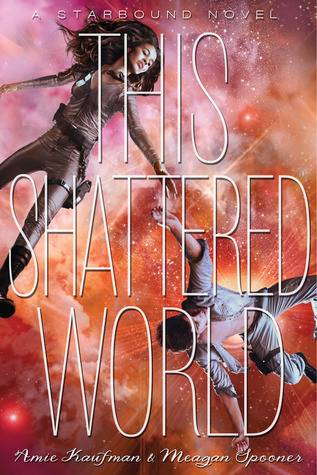 This week my teaser comes from
This Shattered World
by Amie Kaufman and Megan Spooner. I got this eARC from NetGalley. I requested this one after reading These Broken Stars. Here is the description from Amazon:
Jubilee Chase and Flynn Cormac should never have met. Lee is captain of the forces sent to Avon to crush the terraformed planet's rebellious colonists, but she has her own reasons for hating the rebels. Rebellion is in Flynn's blood. His sister died in the original uprising against the powerful corporations that terraformed Avon. These corporations make their fortune by terraforming uninhabitable planets across the universe and recruiting colonists to make the planets livable, with the promise of a better life for their children. But they never fulfilled their promise on Avon, and decades later, Flynn is leading the rebellion. Desperate for any advantage in a bloody and unrelentingly war, Flynn does the only thing that makes sense when he and Lee cross paths: he returns to base with her as prisoner. But as his fellow rebels prepare to execute this tough-talking girl with nerves of steel, Flynn makes another choice that will change him forever. He and Lee escape base together, caught between two sides of a senseless war. As Flynn and Lee attempt to uncover the truth about Avon, they realize that there is a conspiracy on the planet that runs deeper than either of them could imagine, one that Lee's former commander Tarver Merendsen only scratched scratcehd the surface of two years ago. The stunning second novel in the Starbound series is an unforgettable story of love and forgiveness in a world torn apart by war.