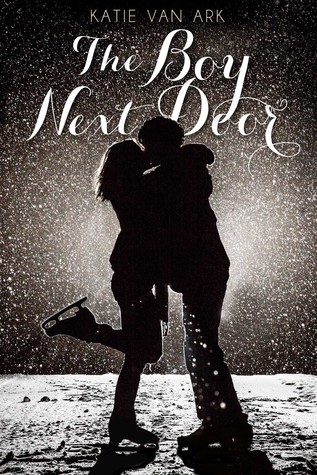 The Boy Next Door
Author:
Katie Van Ark
Publication:
Swoon Reads (January 6, 2015)
Description:
Maddy Spier's been in love with the boy next door
forever
. As his figure skating partner she spends time in his arms every day. But she's also seen his arms around other girls—lots of other girls. How can she make him realize that they can be partners off the ice as well?
Gabe's relationship with Maddy is vital. He can't imagine skating with anyone else, and together they have a real chance at gold–maybe even making it to the Olympics! So he's decided to think of her as a sister. After all, family is forever, but he's never dated anyone for more than two weeks.
Then their coach assigns a new romantic skating program, and everything changes. Will this be the big break that Maddy's been hoping for or the big break-up that Gabe has always feared?
My Thoughts:
This was an excellent romance with a strong helping of figure skating. Maddy has been in love with the boy next door - and her skating partner - since she was a pre-schooler. They have been pairs skating since that time. But now they are seventeen and, while Maddy would like them to be boyfriend-girlfriend, Gabe is reluctant. He has never had a relationship that has lasted more than two weeks. He's afraid that if he starts something with Maddy he will wreck their lifelong friendship and their skating partnership. After all, their best friends at the rink got romantic and now they spend at least half their time fighting with each other.
Besides relationship pressures, Gabe and Maddy are also qualifying to compete in Senior Nationals and skating to
Romeo and Juliet
- there couldn't be worse music for a guy who's afraid to fall in love with his partner. And, to put even more pressure on Maddy, her father who is a senator has become distant and is not coming home to her and her mother in Kansas as often as he used to. Maddy is afraid that he is having an affair.
I loved that the chapters were told in alternate viewpoints so that we could see what both Maddy and Gabe were thinking and feeling. Of course, I saw early on why Gabe couldn't be with a girl for more than two weeks. He was in love with Maddy and no one else could measure up. It took him quite a while and a serious skating accident before he finally figured it out.
I fell in love with both characters and loved reading their story.
Favorite Quote:
Mom leans on her desk as she stands. "Nothing for you to worry about, Maddy. Everything's going to be fine."

I hear what she doesn't say. She's worried about something and everything's not fine right now.
I got this ARC from Macmillan.
You can buy your copy here.