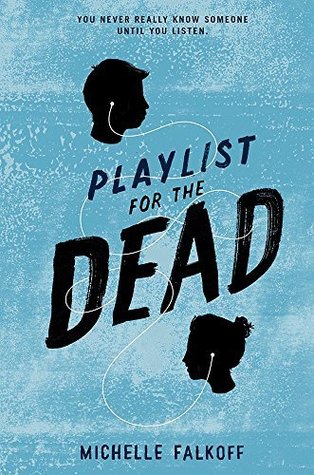 Playlist for the Dead
Author:
Michelle Falkoff
Publication:
HarperTeen (January 27, 2015)
Description:
Part mystery, part love story, and part coming-of-age tale in the vein of
The Perks of Being a Wallflower
and
The Spectacular Now
.
There was a party. There was a fight. The next morning, Sam's best friend, Hayden, was dead. And all he left Sam was a playlist of songs and a suicide note:
For Sam—listen and you'll understand.
To figure out what happened, Sam has to rely on the playlist and his own memory. But the more he listens, the more he realizes that his memory isn't as reliable as he thought. And it might only be by taking out his earbuds and opening his eyes to the people around him that he'll finally be able to piece together his best friend's story. And maybe have a chance to change his own.
Playlist for the Dead
is an honest and gut-wrenching first novel about loss, rage, what it feels like to outgrow a friendship that's always defined you—and the struggle to redefine yourself. But above all, it's about finding hope when hope seems like the hardest thing to find.
My Thoughts:
PLAYLIST FOR THE DEAD tells the story of a young man coming to terms with the suicide of his only friend. Both Sam and Hayden were misfits in their school. They banded together because of similar interests in music, comic books, and video games. Sam was the one who found his friend and is the one who is trying to decipher the messages Hayden was trying to convey in the playlist he left him.
As Sam explores the playlist he also starts to see that others around Hayden had their own burdens of guilt. Hayden's older brother Ryan and his two good buddies were Hayden's chief tormentors. Sam and Hayden called them the bully trifecta. Now things are happening to the trifecta and Sam is afraid that he might be the one doing them.
Sam also meets a girl - Astrid - who seems to know things about Hayden that Sam never knew. She and Sam become close until Sam learns that she is keeping secrets too. Sam also meets some other people like his sister's boyfriend Jimmy who, having experienced his own loss, helps Sam deal with his.
This was an engaging story about coming to terms with loss and using that loss to grow and change. Fans of contemporary fiction will enjoy Sam's story. Readers who are familiar with the songs that are the chapter titles may gain some insight that I did not simply because I wasn't familiar with any of the songs.
Favorite Quote:
I'd spent the past few days alternating between missing him and hating him, feeling guilty and shitty, not knowing how I was supposed to be feeling but wanting it to be different, somehow. He'd left me alone, and I'd never have done that to him, no matter how mad I was. It had made it almost impossible to sleep, so on top of everything else I was exhausted. Exhausted and angry. A great combination.
I received this eARC from Edelweiss for review.
You can buy your copy here
.