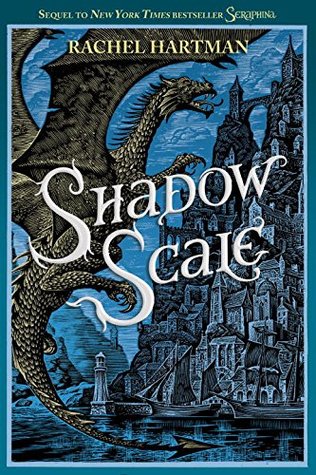 Shadow Scale
Author:
Rachel Hartman
Series:
Seraphina (Book 2)
Publication:
Random House Books for Young Readers (March 10, 2015)
Description:
The kingdom of Goredd: a world where humans and dragons share life with an uneasy balance, and those few who are both human
and
dragon must hide the truth. Seraphina is one of these, part girl, part dragon, who is reluctantly drawn into the politics of her world. When war breaks out between the dragons and humans, she must travel the lands to find those like herself—for she has an inexplicable connection to all of them, and together they will be able to fight the dragons in powerful, magical ways.
As Seraphina gathers this motley crew, she is pursued by humans who want to stop her. But the most terrifying is another half dragon, who can creep into people's minds and take them over. Until now, Seraphina has kept her mind safe from intruders, but that also means she's held back her own gift. It is time to make a choice: Cling to the safety of her old life, or embrace a powerful new destiny?
My Thoughts:
We waited a while for the sequel to Seraphina but the wait was worth it. Shadow Scale is a very entertaining epic fantasy story. The world has such depth that I could almost feel that I had been there. The characters were well-rounded individuals with both strengths and weaknesses.
Seraphina is determined to locate the other half dragons who are in her mind garden in the hopes that they could help Goredd survive in the up-coming war between the dragons. She travels to other lands - Samsam and Ninys - and visits the city of Porphyry to locate the others. She is accompanied by Dame Okra and her young friend Abdo who are also half dragons. Along the way she sees how half dragons are treated in other countries. She also gets to meet the people who had been part of her mind garden since she was a child.
One of the denizens of her mind garden was Jannoula. She was one of the first to join the garden but Seraphina had to eject her because she was taking over Seraphina's life. Now it turns out that Jannoula isn't safely locked away as Seraphina had hoped but is free and causing all sorts of mischief among humans and dragons alike.
Much of the story deals with Seraphina trying to unlock gifts she had locked away in order to thwart Jannoula's plans before Jannoula managed to destroy everything Seraphina loved. Among her loves are the young queen Glisselda and her fiance Prince Lucian Kiggs. Seraphina and Kiggs are in love but neither wants to hurt Glisselda. Putting distance between herself and Kiggs was one of the reasons Seraphina was so eager to set off on her journey to find other half dragons.
The story sucked me in and I couldn't put it down. I really cared for Seraphina and wanted things to work out for her. Fans of epic fantasy won't want to miss this book.
Favorite Quote:
Was there a difference between doing evil and being evil? I still pitied Jannoula's imprisonment, her pain and torment, and felt guilt for having sent her back to it. If the misery she experienced every day had been warping her sense of right and wrong, even during the time I knew her, how much further had it bent her by now?
I got this eARC from NetGalley. You can buy your copy here.