Happy Friday everybody!!
Book Beginnings
on Friday is now hosted by
Rose City Reader
. The Friday 56 is hosted at
Freda's Voice
. Check out the links above for the rules and for the posts of the participants each week. Don't dig for your favorite book, the coolest, the most intellectual. Use the CLOSEST.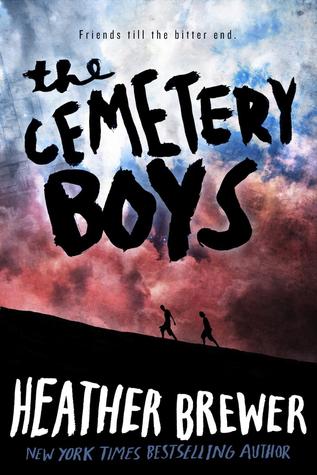 The week I am spotlighting
The Cemetery Boys
by Heather Brewer. I got this book for review from Edelweiss and chose it because I have never read anything by the author. Here is the description from GoodReads:
When Stephen is forced to move back to the nowhere town where his father grew up, he's already sure he's not going to like it. Spencer, Michigan, is like a town straight out of a Hitchcock movie, with old-fashioned people who see things only in black-and-white. But things start looking up when Stephen meets the mysterious twins Cara and Devon. They're total punks–hardly the kind of people Stephen's dad wants him hanging out with–but they're a breath of fresh air in this backward town. The only problem is, Cara and Devon don't always get along, and as Stephen forms a friendship with the charismatic Devon and something more with the troubled Cara, he starts to feel like he's getting caught in the middle of a conflict he doesn't fully understand. And as Devon's group of friends, who hang out in a cemetery they call The Playground, get up to increasingly reckless activities to pass the summer days, Stephen worries he may be in over his head.

Stephen's fears prove well-founded when he learns of Spencer's dark past. It seems the poor factory town has a history of "bad times," and many of the town's oldest residents attribute the bad times to creatures right out of an urban legend. The legend goes that the only way the town will prosper again is if someone makes a sacrifice to these nightmarish creatures. And while Stephen isn't one to believe in old stories, it seems Devon and his gang might put a lot of faith in them. Maybe even enough to kill for them.

Now, Stephen has to decide what he believes, where his allegiances lie, and who will really be his friend in the end.
Beginning:
My fingers were going numb, my bound wrists worn raw by the ropes, but I twisted again, hard this time.
Friday 56:
They continued down the sidewalk a ways before crossing the street. My dad joined me beside the Beetle, a little too chipper for my tastes. "Are those the guys you were out with last night? Making new friends?"