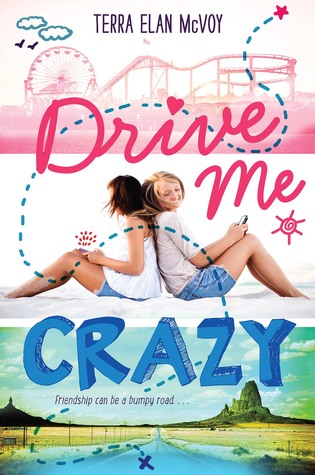 Drive Me Crazy
Author:
Terra Elan McVoy
Publication:
Katherine Tegen Books (April 28, 2015)
Description:
Friendship can be a bumpy road. . . .
Lana and Cassie have met only once before, at the wedding of Lana's Grandpa Howe and Cassie's Grandma Tess two months ago. The two girls couldn't be more different, and they didn't exactly hit it off—but they're about to spend an entire week together for their grandparents' honeymoon, road-tripping from California to Maine in the backseat of a Subaru.
It's going to be a disaster.
Told in alternating chapters between Cassie and Lana,
Drive Me Crazy
is a tween rivalry-turned-friendship story bursting with humor and heart.
My Thoughts:
This is a story told in alternate chapters by Lana and Carrie. The two are thrown together on a road trip with their honeymooning grandparents. They met for the first time at their grandparents' wedding. Lana thought that they had a chance to become good friends and was looking forward to the trip. Carrie isn't interested in being friends. Carrie is too busy trying to keep in touch with her new group of friends.
Lana is trying to have fun but she is also very worried about her mother. She has been having lots of headaches and Lana is certain that her parents are keeping something from her. Naturally, she fears the worst. What if her mother has cancer and is going to die? She is trying very hard to hide her fears from her grandparents and pretend that she is having a great time on their trip.
When the girls can forget about their other worries, they do have fun touring Hearst Castle, going to an amusement park, and doing other touristy things. But the tensions grow between the girls and they spend a lot of the trip not talking. I had a hard time empathizing with Carrie's obsession with some friends who didn't seem very nice or very kind. I had a little more sympathy when she was thinking about the fight she had with her former best friend Fiona which sent her looking for new friends.
I liked Lana a lot. I liked her caring relationship with her parents and I liked her delight in spending time with her grandparents. I thought her relationship with her Grandpa Howe was especially good. I could understand her worry about her mother and could also understand why parents might want to protect a twelve-year-old by not telling her what was happening.
This was an excellent story. I came to like both girls and the friendship they built.
Favorite Quote:
Lana stays calm. "I know that. But sometimes we don't get what we want. Sometimes... " She trails off, staring into space a second. She blinks, and her eyes snap back to focus on mine. "Sometimes you just have to be grown-up even when it's not fair. Sometimes, when other people can't take care of you in the ways you think they should, you have to be the one to do it."
I got this eARC from Edelweiss.
You can buy your copy here
.