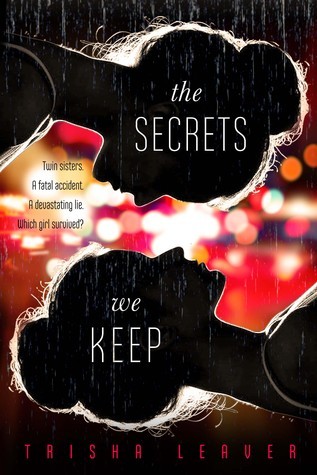 The Secrets We Keep
Author:
Trisha Leaver
Publication:
Farrar, Straus and Giroux (BYR) (April 28, 2015)
Description:
"A girl takes over her twin sister's identity in this emotionally charged page-turner about the complicated bond between sisters."
Ella and Maddy Lawton are identical twins. Ella has spent her high school years living in popular Maddy's shadows, but she has never been envious of Maddy. In fact, she's chosen the quiet, safe confines of her sketchbook over the constant battle for attention that has defined Maddy's world.
When--after a heated argument--Maddy and Ella get into a tragic accident that leaves her sister dead, Ella wakes up in the hospital surrounded by loved ones who believe she is Maddy. Feeling responsible for Maddy's death and everyone's grief, Ella makes a split-second decision to pretend to be Maddy. Soon, Ella realizes that Maddy's life was full of secrets. Caught in a web of lies, Ella is faced with two options--confess her deception or live her sister's life.
My Thoughts:
Ella and Maddy Lawton are identical twins but, now juniors in high school, they couldn't be more different. Maddy is the social butterfly, average student, field hockey player, and devoted girlfriend of Alex. Ella is quieter, artistic, an Honor student, and has one devoted friend named Josh. Ella has always wished that she and Maddy were closer and is always there to pick up after Maddy when she needs help.
However, the night she goes to get Maddy from a party at Alex's house, Maddy won't tell her why she didn't get a ride home from her boyfriend or her best friend. The two argue on the way home and Ella loses control of the car. When she wakes up in the hospital she doesn't know who she is. Alex is there when she says Maddy's name which convinces him that she is Maddy. It isn't until she sees her sister's body that she realizes that she is Ella. But she feels so guilty about Maddy's death that she decides to let "Ella" be buried and to become "Maddy."nShe has the mistaken impression that her parents loved Maddy more than her and would want Maddy to be the one to survive. As Ella tries to fit into Maddy's life she learns that Maddy had been keeping secrets. She also learns that Josh is missing Ella more than she imagined he would.
This was a great story about guilt and the love between sisters. While I had some difficulty believing that the two girls were so identical that Ella could get away with her deception, I still thought this was a very good story.
Favorite Quote:
"You doing okay?" Dad asked.

Not knowing how to answer, I shrugged. I was so far removed from okay that even I couldn't put a name to the mess of emotions I was feeling. Anger, pain, regret, and an overwhelming amount of guilt churned together, leaving me numb.
I got this ARC from Macmillan.
You can buy your copy here
.