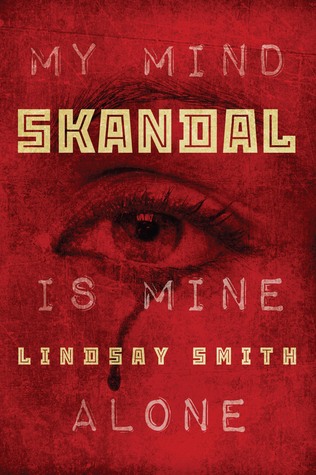 Skandal
Author:
Lindsay Smith
Series:
Sekret Series (Book 2)
Publication:
Roaring Brook Press (April 7, 2015)
Description:
The dramatic sequel to SEKRET, this psychic Cold War espionage thriller follows Yulia to Washington, DC, where she fights to discover the truth about her family without losing control of her mind.
My mind is mine alone.
Life in Washington, D.C., is not the safe haven Yulia hoped for when she risked everything to flee communist Russia. Her father is reckless and aloof, and Valentin is distant and haunted by his past. Her mother is being targeted by the CIA and the US government is suspicious of Yulia's allegiance. And when super-psychics start turning up in the US capitol, it seems that even Rostov is still a threat. Ultimately, Yulia must keep control of her own mind to save the people she loves and avoid an international SKANDAL.
My Thoughts:
It's 1964. Yulia has escaped from the Soviet Union and is with her father and her boyfriend Valentin. They are working for the CIA but working for someone who is suspicious of them because they are Soviets. Yulia sees some of the values of being in the United States but she is overwhelmed by the differences of life in the USA. Her father is different than she remembers; she is worried about the mother she left behind; and she is worried that Valentin's demons will overcome him.
In the larger picture, Rostov is still plotting for the good of the Soviet Union. He would very much like to goad the United States into a war in Vietnam. He has forced Yulia's mother to work with him by creating a serum that develops psychic powers in people who don't already have them. However, these people can't handle their powers and they die of the complications but not before they can further Rostov's agenda.
Yulia has to develop a cure for the serum her mother invented after Valentin is injected with it. She also has to come to terms with her own psychic talent which often buries her in other people's memories. And, along the way, she has to stop Rostov and rescue her mother.
This was a great story that really brought to life the times with the Cold War raging and issues at home like racial discrimination coming to a head. Yulia's English tutor and guide is a Black woman. This lets Yulia and us, as the readers, see what things were like in the 1960s. I liked the glimpses into the fashions and the Arts of the time period.
Historical fiction fans with enjoy this book.
Favorite Quote:
"Others' thoughts and memories can pass through your mind," Cindy says, "but your mind must remain your own."

I sit up straighter. "My mind is mine alone."
I got this ARC from Macmillan.
You can buy your copy here.