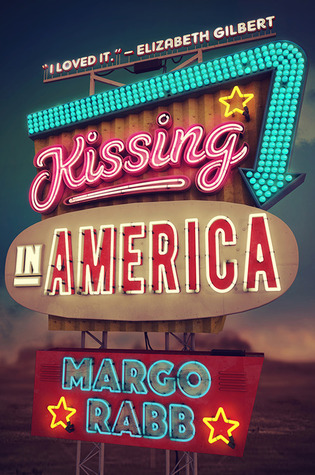 Kissing in America
Author:
Margo Rabb
Publication:
HarperCollins (May 26, 2015)
Description:
Acclaimed writer Margo Rabb's
Kissing in America
is "a wonderful novel about friendship, love, travel, life, hope, poetry, intelligence, and the inner lives of girls," raves internationally bestselling author Elizabeth Gilbert (
Eat, Pray, Love
).
In the two years since her father died, sixteen-year-old Eva has found comfort in reading romance novels—118 of them, to be exact—to dull the pain of her loss that's still so present. Her romantic fantasies become a reality when she meets Will, who understands Eva's grief. Unfortunately, after Eva falls head over heels for him, he picks up and moves to California without any warning. Not wanting to lose the only person who has been able to pull her out of sadness—and, perhaps, her shot at real love—Eva and her best friend, Annie, concoct a plan to travel to the West Coast to see Will again. As they road trip across America, Eva and Annie confront the complex truth about love.
In this honest and emotional journey that National Book Award finalist Sara Zarr calls "gorgeous, funny, and joyous," readers will experience the highs of infatuation and the lows of heartache as Eva contends with love in all its forms.
My Thoughts:
To cope with her father's death, sixteen-year-old Eva has buried herself in romance novels which is much to the despair of her feminist mother. It is the only way she can cope with the loss of her beloved father in a plane crash. Her mother's way of coping is to get rid of all of her father's possessions and never talk about him. Eva manages to save a few random things. One thing she hasn't been able to save is her love of writing. She and her father would fill notebook after notebook with stories and poems.
When Eva meets Will in an after-school tutoring program, she feels her dreams of a epic romance have finally come true. Will has grief issues of his own. His mother is still mourning the crib death of Will's brother, his father has left the family, and his mother is losing her business. They bond because they are both dealing with grief. When Will has to leave New York to live with his father in California, Eva is determined to get there to visit him.
When a chance comes for her best friend Annie to take part in a contest for Smartest Girl in America and bring Eva along as her lifeline, the two girls seize the opportunity. It takes a lot of convincing before Eva can convince her mother to let her go. The girls are planning to travel from New York City to Los Angeles by bus. With the addition of various stops at the homes of relatives and friends, the girls make their way to Los Angeles. Along the Eva learns more about her mother's reasons for the way she deals with grief and her world opens up as she sees something different than New York City.
I thought this story was very well written. I really liked Eva. I also liked the portrayal of grief as shown by the way a number of the characters deal with it. I also thought that Eva's romance was very well done. I laughed out loud a couple of times as Eva quoted her beloved historical romances. I liked the various pieces of poetry that began each section of the book. I'll be buying a copy of this one for my high school media center.
Favorite Quote:
I loved romances because when you opened the first page, you knew the story would end well. Your heart wouldn't be broken. I loved that security, that guaranteed love. Sure, a minor, usually unlikable character might drop dead from typhus or consumption or starve to death in the brig, but bad things were only temporary in those books. By the end, the hero and heroine would be ecstatically in love, enormously happy.

In real life, you never knew the ending. I hated that.
I got this ARC from Edelweiss.
You can buy your copy here
.