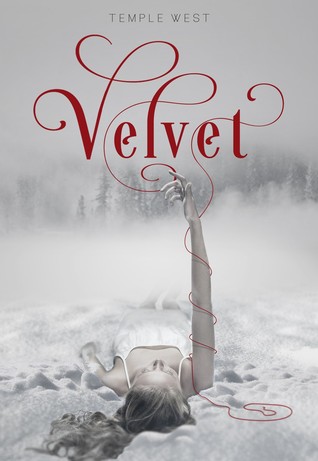 Velvet
Author:
Temple West
Publication:
Swoon Reads (May 12, 2015)
Description:
After losing both her parents before age 17, aspiring designer Caitlin Holte feels like her whole world has been turned upside down, and that was
before
the terrifying encounter with a supernatural force. Then, she learns that her hot bad-boy neighbor, Adrian--who might have just saved her life--is actually a half-demon vampire.
Suddenly Caitlin is stuck with a vampire bodyguard who feels that the best way to protect her is to become her pretend boyfriend. Trouble is, Caitlin is starting to fall in love for real, while Adrian can never love a human. Caitlin trusts Adrian to keep her safe from his demon father, but will he be able to protect her heart?
My Thoughts:
I enjoyed this new vampire romance. Caitlin Holte is reeling after the death of her mother and her abrupt relocation to rural New York where she is living with an aunt, uncle and cousin that she doesn't really know. She is really, really angry and really, really determined not to feel at home. A strange boy rescues her when she goes out for a walk in the woods and finds herself in the middle of a freak storm.
When she begins school just a few days after her mother's death she meets some of the local kids including Trish who is determined to befriend her and Adrian who is the mysterious senior who none of the other kids know well. However, Adrian takes an interest in Caitlin. Turns out he's a vampire who needs to protect her from the attention of his demon father who want like Caitlin to have his next child. One major problem with that scenario is that the human mother dies when their child is born.
Adrian has been assigned by the Council to protect Caitlin and to do that they are pretending to be boyfriend and girlfriend. But they really do start to like each other and it is hard to keep pretending but not to really fall in love - for both of them.
I liked when Caitlin got to know Adrian's family especially his little brother Lucian. I liked the relationship Caitlin had with her new friends in town. I could see that the strained relationship with her aunt and uncle had some hope of being repaired.
Fans of vampire romances are the audience for this one.
Favorite Quote:
"Oh, yeah?" he asked, sounding amused. "What about you falling in love with me?"

I scoffed. "Why would I fall in love with you? You're just a hot, closet-nerd vampire with a bazillion dollars and a Harley. There's absolutely nothing attractive about you."
I got this ARC from Macmillan.
You can buy your copy here
.