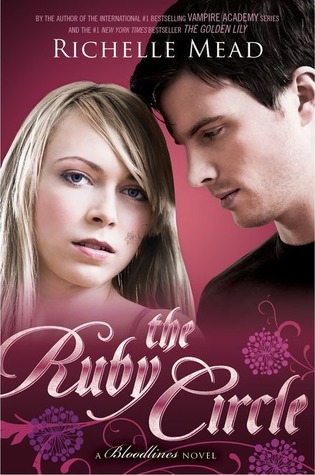 The Ruby Circle
Author:
Richelle Mead
Series:
Bloodlines, Book 6
Publication:
Razorbill (February 10, 2015)
Description:
The epic conclusion to Richelle Mead's New York Times bestselling Bloodlines series is finally here...
Sydney Sage is an Alchemist, one of a group of humans who dabble in magic and serve to bridge the worlds of humans and vampires. They protect vampire secrets—and human lives.
After their secret romance is exposed, Sydney and Adrian find themselves facing the wrath of both the Alchemists and the Moroi in this electrifying conclusion to Richelle Mead's
New York Times
bestselling Bloodlines series. When the life of someone they both love is put on the line, Sydney risks everything to hunt down a deadly former nemesis. Meanwhile, Adrian becomes enmeshed in a puzzle that could hold the key to a shocking secret about spirit magic, a secret that could shake the entire Moroi world.
My Thoughts:
The finale to the Bloodlines series manages to tie up a number of loose ends and be an engaging adventure too.
Spoilers Ahead....
Sydney and Adrian are married and have taken refuge in the Moroi Court. However, neither one is accepted there and they spend most of their time in their suite with Adrian's mother. Jill is still missing and both Adrian and Sydney wish they could be out looking for her. Adrian is still dealing with how much he can use spirit egged on by the voice in his head of his Aunt Titania. Sydney is afraid that overuse will bring on the insanity that has caught others who overuse spirit. Adrian's spirit use is a matter of tension between them.
When Sydney is brought a possible clue to Jill's location by Ms. Terwilliger, she has to sneak out of court to try to find Jill. Meanwhile, Adrian has to stay both to keep up the appearance that Sydney is still there and to work with another spirit user who is searching for her missing sister. Both have numerous adventures involving many of the characters who have come to know through the series before reuniting in the final confrontation.
I am satisfied with the way this series ends. I will miss these characters. I liked that Mead left room to revisit these characters sometime in the future. I look forward to that possibility.
Favorite Quote:
"They really are amazing, aren't they?" he mused, admiring Declan as he slept in my arms. "Someone so small. . . who will have such enormous potential. Good, evil. Great acts, small acts. What will it be? What will he become?"
I bought this one.
You can buy your copy here
.