Teaser Tuesdays is a weekly bookish meme, hosted by MizB of
A Daily Rhythm
. Anyone can play along! Just do the following:
Open to a random page
Share two (2) "teaser" sentences from somewhere on that page
BE CAREFUL NOT TO INCLUDE SPOILERS! (make sure that what you share doesn't give too much away! You don't want to ruin the book for others!)
Share the title and author, too, so that other TT participants can add the book to their TBR Lists if they like your teasers!
Teaser:
On the wall, the photographs reset themselves mechanically into a different set of images. Now they were famous sites of the world: the Eiffel Tower, the Taj Mahal, along with outlines of various countries. Cora's head was still foggy, but she touched the closest painting, the Eiffel Tower, and spun the one below it until she got to France.

Tokens rained out of the slot.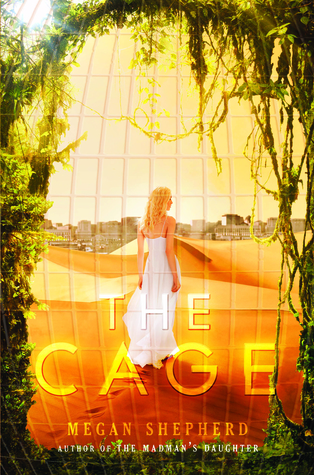 This week my teaser comes from
The Cage
by Megan Shepherd. I got this eARC from Edelweiss. Here is the description from Amazon:
The Maze Runner meets Scott Westerfeld in this gripping new series about teens held captive in a human zoo by an otherworldly race. From Megan Shepherd, the acclaimed author of The Madman's Daughter trilogy

When Cora Mason wakes in a desert, she doesn't know where she is or who put her there. As she explores, she finds an impossible mix of environments—tundra next to desert, farm next to jungle, and a strangely empty town cobbled together from different cultures—all watched over by eerie black windows. And she isn't alone.

Four other teenagers have also been taken: a beautiful model, a tattooed smuggler, a secretive genius, and an army brat who seems to know too much about Cora's past. None of them have a clue as to what happened, and all of them have secrets. As the unlikely group struggles for leadership, they slowly start to trust each other. But when their mysterious jailer—a handsome young guard called Cassian—appears, they realize that their captivity is more terrifying than they could ever imagine: Their captors aren't from Earth. And they have taken the five teenagers for an otherworldly zoo—where the exhibits are humans.

As a forbidden attraction develops between Cora and Cassian, she realizes that her best chance of escape might be in the arms of her own jailer—though that would mean leaving the others behind. Can Cora manage to save herself and her companions? And if so . . . what world lies beyond the walls of their cage?