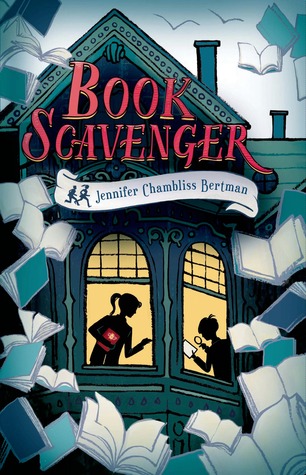 Book Scavenger
Author:
Jennifer Chambliss Bertman
Publication:
Henry Holt and Co. (BYR) (June 2, 2015)
Description:
For twelve-year-old Emily, the best thing about moving to San Francisco is that it's the home city of her literary idol: Garrison Griswold, book publisher and creator of the online sensation Book Scavenger (a game where books are hidden in cities all over the country and clues to find them are revealed through puzzles). Upon her arrival, however, Emily learns that Griswold has been attacked and is now in a coma, and no one knows anything about the epic new game he had been poised to launch. Then Emily and her new friend James discover an odd book, which they come to believe is from Griswold himself, and might contain the only copy of his mysterious new game.
Racing against time, Emily and James rush from clue to clue, desperate to figure out the secret at the heart of Griswold's new game--before those who attacked Griswold come after them too.
My Thoughts:
This story was a great middle grade adventure. Emily has just arrived in San Francisco. Her parents have set a goal of living for a time in each of the fifty states. Emily is tired of moving and of never staying anywhere long enough to make friends. However, San Francisco has some perks that the other cities did not. Emily loves the Book Scavenger game created by Garrison Griswold, a publisher who lives in San Francisco. She is hoping to take part in one of his local games. But she is very disappointed to learn that he has been mugged and is in serious condition in the hospital.
She and her brother Matthew along with her new friend James are exploring and go to the location of the mugging. Emily finds a book - The Gold-Bug by Edgar Allen Poe - which she believes was left by some other book scavenger. Upon further exploration of the book, she decides that it is the first book in a treasure hunt set up by Griswold. She is determined to solve the puzzles and find the treasure. Unfortunately, she isn't the only one who wants the book and she and James find themselves in more danger than they could have anticipated.
Besides the book hunt which is filled with codes to solve, this story is also about friendship. Emily and James have their rough spots as Emily is new to making friends and sometimes gets a little obsessed with her book scavenger hunt. It is also about the friendship of Griswold and a small bookstore owner named Hollister who helps the kids on their hunt. I liked the relationship that Emily has with her older brother Matthew who is obsessed with the band Flush.
This story was exciting and I really liked the references to other books that the author managed to get into the story. Maybe it will encourage kids to dive into Poe, Hammett, and even Jack Kerouac.
Favorite Quote:
If they'd stayed in New Mexico or Colorado or Connecticut or any of the other states, she never would have met James or ridden a cable car or found Mt. Griswold's book. Even though they'd only just moved to California and she and James weren't talking, she wouldn't trade these last few weeks away. Matthew was right—you missed out on stuff either way. Or you gained stuff, depending on your perspective.
I got this ARC from Macmillan.
You can buy your copy here
.