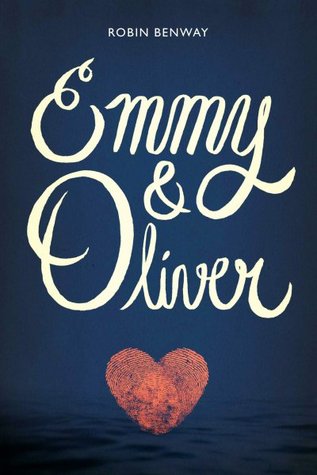 Emmy & Oliver
Author:
Robin Benway
Publication:
HarperTeen (June 23, 2015)
Description:
Emmy and Oliver were going to be best friends forever, or maybe even more, before their futures were ripped apart. In Emmy's soul, despite the space and time between them, their connection has never been severed. But is their story still written in the stars? Or are their hearts like the pieces of two different puzzles—impossible to fit together?
Emmy just wants to be in charge of her own life. . . . She wants to stay out late, surf her favorite beach—go anywhere without her parents' relentless worrying. But Emmy's parents can't seem to let her grow up—not since the day Oliver disappeared.
Oliver needs a moment to figure out his heart. . . . He'd thought, all these years, that his dad was the good guy. He never knew that it was his father who had kidnapped him and kept him on the run. Discovering it, and finding himself returned to his old hometown, all at once, has his heart racing, and his thoughts swirling.
Readers who love Sarah Dessen will devour these pages with hearts in throats as Emmy and Oliver struggle to face the messy, confusing consequences of Oliver's father's crime. Full of romance, coming-of-age emotion, and heartache, these two equally compelling characters create an unforgettable story.
My Thoughts:
I loved EMMY & OLIVER. It is a story about friendship and family and parental kidnapping. Emmy and Oliver were best friends since birth. They share the same birthday. They live next door to each other. But just into second grade, Oliver is kidnapped by his father and disappears. That changed everything for Emmy, her friends Caro and Drew, for Oliver's mother Maureen and for Emmy's parents. Emmy's parents became overwhelmingly protective. Even though Emmy loves them she has learned that to do what she wants she has to lie to them. She sneaks out to surf and she secretly applies to UC San Diego. Her parents want her to live at home and attend Junior College for two years after she graduates.
Then the thing that they have all been hoping for happens and Oliver comes home. He didn't know that his father kidnapped him. His father told him that his mother left them. He and Oliver traveled from place to place and his father homeschooled him. Oliver never went to the doctor or the dentist. It wasn't until he Googled himself that he found out his mother had been searching for him ever since he was taken.
Now Oliver is back home and everyone is trying to adjust. Oliver is torn between the love he feels for his father and his hatred of what his father did. He is also thrust back into a life that is totally new to him. His mother has remarried and he has young twin sisters. Oliver also has to adjust to a new school where he is an object of interest because of his story.
Emmy and Oliver resume their friendship and even fall in love but both have been forever changed because of the kidnapping. Emmy helps Oliver deal with his feeling for his father and his mother. Oliver encourages Emmy to tell her parents what she wants out of life. Oliver's presence is also putting pressure on Emmy's friendship with Drew and Caro. Oliver feels like an outsider because the three have all their in-jokes and shared memories. Emmy wanting to be with Oliver especially hurts Caro.
I very much enjoyed this story of parental kidnapping because of the emphasis that was placed on how it changed things for those left behind. I could also understand Oliver's conflicted feeling about his father and his mother. I loved Emmy's relationship with her parents and her very snarky sense of humor too.
I can't wait to share this story with my students next year.
Favorite Quote:
It was always a little easier to talk to Drew than it was to Caro. He gave people more space in between their words, let them figure out how to make their thoughts soud the same on the outside as they did on the inside. He was patient where Caro was urgent.
I got this ARC from Edelweiss.
You can buy your copy here
.