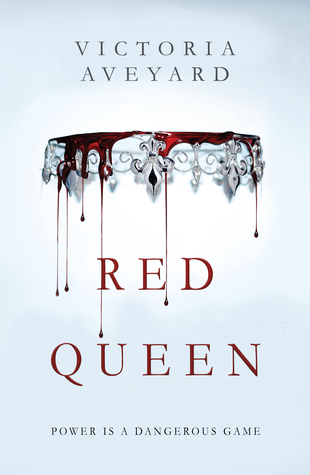 Red Queen
Author:
Victoria Aveyard
Series:
Red Queen (Book 1)
Publication:
HarperTeen (February 10, 2015)
Description:
Graceling
meets
The Selection
in debut novelist Victoria Aveyard's sweeping tale of seventeen-year-old Mare, a common girl whose once-latent magical power draws her into the dangerous intrigue of the king's palace. Will her power save her or condemn her?
Mare Barrow's world is divided by blood—those with common, Red blood serve the Silver-blooded elite, who are gifted with superhuman abilities. Mare is a Red, scraping by as a thief in a poor, rural village, until a twist of fate throws her in front of the Silver court. Before the king, princes, and all the nobles, she discovers she has an ability of her own.
To cover up this impossibility, the king forces her to play the role of a lost Silver princess and betroths her to one of his own sons. As Mare is draws further into the Silver world, she risks everything and uses her new position to help the Scarlet Guard—a growing Red rebellion—even as her heart tugs her in an impossible direction. One wrong move can lead to her death, but in the dangerous game she plays, the only certainty is betrayal.
My Thoughts:
RED QUEEN is a well-written epic fantasy. I enjoyed the characters and the setting. This fantasy world has two kinds of people - silver bloods and red bloods. Mare Barrow is a Red who starts the story as a thief trying to survive and help her family in a world where Reds are the equivalent of slaves to the Silvers. Her three older brothers have been conscripted into the army to fight a war that has been going on for more than 100 years. She faces conscription herself if she doesn't have a job by the time she's 18. Her good friend Kilorn seemed safe. He was apprenticed to a fisherman until his master died and left him jobless.
Mare is determined to get Kilorn and herself out and contacts smugglers who are part of a secret Red Guard who are attempting to overthrow the Silvers. When Mare meets Cal one evening, her life changes. Cal, who turns out to be the Silver Crown Prince, gets her a job serving in the King's summer home. An accident there reveals that Mare has psychic powers like the Silvers and changes her life forever. She gets involved in the complex rivalries of the various Silvers and gets involved in the Red Guard too.
This story has romance. She first admires Cal and then hates him as their politics tear them apart. She is betrothed to Cal's younger brother Maven and the two become united in overthrowing the Silvers. But there are dangers and betrayals and heartbreak. The pacing was fast and the action constant in this fantasy. While I had some questions about the various psychic powers that the Silvers had, I thought the world building was well done.
I look forward to reading more books in this series. I want to see how this world and these characters develop.
Favorite Quote:
The guards and even Lucas are wardens to keep me imprisoned in my own skin, red behind a silver curtain that can never be pulled away. If I fall, if I even slip, I will die. And others will die for my failure.
I bought this one.
You can buy your copy here
.