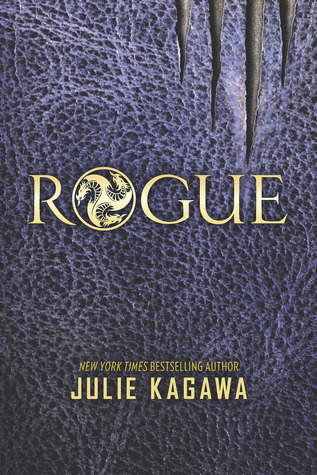 Rogue
Author:
Julie Kagawa
Series:
The Talon Saga (Book 2)
Publication:
Harlequin Teen (April 28, 2015)
Description:
Ember Hill left the dragon organization Talon to take her chances with rebel dragon Cobalt and his crew of rogues. But Ember can't forget the sacrifice made for her by the human boy who could have killed her—Garret Xavier Sebastian, a soldier of the dragonslaying Order of St. George, the boy who saved her from a Talon assassin, knowing that by doing so, he'd signed his own death warrant.
Determined to save Garret from execution, Ember must convince Cobalt to help her break into the Order's headquarters. With assassins after them and Ember's own brother helping Talon with the hunt, the rogues find an unexpected ally in Garret and a new perspective on the underground battle between Talon and St. George.
A reckoning is brewing and the secrets hidden by both sides are shocking and deadly. Soon Ember must decide: Should she retreat to fight another day…or start an all-out war?
My Thoughts:
ROGUE is the second book in the Talon Saga. Ember has gone rogue and is with Cobalt (Riley). However, Ember's first self-appointed task is to rescue Garret from the Order's headquarters. She feels that she owes it to him because he didn't kill her when he had a chance. The escape works but now Garret, Ember, Riley and Wes have both the Order and Talon on their trail. They flee to Las Vegas and hope to get lost in the crowds.
The story is told from multiple viewpoints. Ember, Riley, Garret, and Ember's brother Dante all take center stage at various points in this book. We even get a look back at what made Cobalt (Riley) go rogue himself. The story is filled with action, betrayals, and a love triangle that causes Ember a lot of difficulty.
This was an excellent story that leaves me aching for the next book.
Favorite Quote:
A grin tugged at one corner of his mouth. "My old trainer gave me a bit of advice once," he said. "Not that I listened to his ramblings most of the time, but this one stuck out. He said, 'A flame that burns twice as bright lasts half as long.' Any idea what that means?"

"Um. That you're a secret philosopher who writes poetry between car heists and jailbreaks?" I guessed.
I bought this one.
You can buy your copy here
.