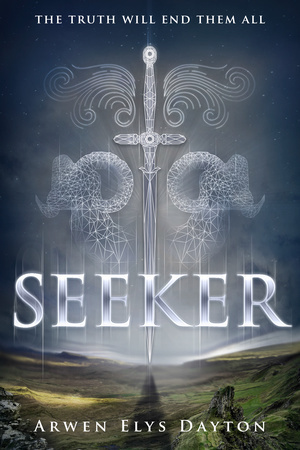 Seeker
Author:
Arwen Elys Dayton
Series:
Seeker
Publication:
Delacorte Press (February 10, 2015)
Description:
Quin Kincaid has been put through years of brutal training for what she thinks is the noble purpose of becoming a revered 'Seeker'.

Only when it's too late does she discover she will be using her new-found knowledge and training to become an assassin. Quin's new role will take her around the globe, from a remote estate in Scotland to a bustling, futuristic Hong Kong where the past she thought she had escaped will finally catch up with her.
My Thoughts:
SEEKER wasn't quite what I was expecting but I enjoyed it anyway. This story is told from the viewpoint's of four young people. Quin, John, Shinobu, and Maud.
Quin, Shinobu, and John are being trained by Quin's father and Shinobu's father to be Seekers. They are taught that they will be righting wrongs and ending injustice once they have finished their brutal training and taken their oaths. John is an outsider because he is from another Seeker family and because he didn't begin his training until he was twelve. Quin and John are falling in love despite parental disapproval. Shinobu has loved Quin since they were young but Quin sees him as a cousin and not a love interest.
Maud is the real outsider. She is known as the Young Dread. Dread's are observers who are supposed to keep the Seekers on the right path. While she admires the Old Dread who picked her to train, she hates the Middle Dread because she sees that he is corrupt. He also abuses her. Maud looks to be about fifteen but was born in the 1400s. Periods of time in the There have stretched her life.
Things take a turn for the unexpected when Quin and Shinobu go on their first mission and find that they are just killers who kill for gain. Their noble calling isn't real. This traumatizes both of them but they are too used to obeying Quin's father to leave. John had been sent home after failing to be made a Seeker. But John has revenge on his mind.
This story travels from Scotland to Hong Kong to London as the kids try to come to terms with their lives. They all use different ways. Shinobu turns to drugs and Quin has her past buried when she almost dies. She is learning to be a healer as her way of making up for being a killer. John is determined to regain the athame that was stolen from his family and determined to learn to use it. He will do any evil thing to regain control of it. It is the athames that allow the Seekers to enter the There and to travel to different places. Each family has one. The Dreads also have their own athame.
This was a fascinating story. I especially liked the way each of them dealt with the consequences of their actions.
Favorite Quote:
The sun was behind John, casting him into shadow, but for the first time Quin was seeing him clearly. She had been training with her father in the hope of doing something honorable with her life. It was all she'd wanted, even if the hope was false. John thought he wanted the same thing - a noble purpose, justice - but he'd already seen Briac's path, and he was willing to set his feet upon it. He was like a sword that had been bent at the moment it was forged. Such a blade will always be bent, as John's heart was bent by the life and the death of the mother he'd never wanted to speak about. At this moment, he was still the John she had known, but he wouldn't stay that way if she helped him now.
I bought this one.
You can buy your copy here
.