Happy Friday everybody!!
Book Beginnings
on Friday is now hosted by
Rose City Reader
. The Friday 56 is hosted at
Freda's Voice
. Check out the links above for the rules and for the posts of the participants each week. Don't dig for your favorite book, the coolest, the most intellectual. Use the CLOSEST.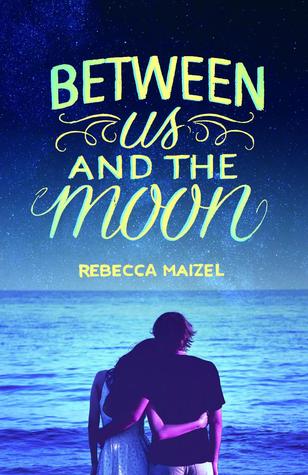 This week I am spotlighting
Between Us and the Moon
by Rebecca Maizel. I got this eARC from Edelweiss. Here is the description from Amazon:
A luminous YA love story that evokes Judy Blume's Forever for a new generation.

Sarah—Bean to her friends and family—is an aspiring astronomer and champion mathlete. She lives behind her beloved telescope, with her head in the stars and her feet planted firmly on the ground. For as long as she can remember, she's also lived in the shadow of her beautiful older sister, Scarlett.

But after a traumatic end to the school year, Sarah goes to Cape Cod for the summer with her family, determined to grow up. It's there that she meets gorgeous, older college boy Andrew. He sees her as the girl she wants to be. A girl like Scarlett. He thinks she's older, too—and she doesn't correct him.

For Sarah, it's a summer of firsts. Before she knows what's happened, one little lie has transformed into something real. And by the end of August, she might have to choose between falling in love, and finding herself.
Fans of Jenny Han and Stephanie Perkins are destined to fall for this romantic and heartfelt coming-of-age novel about how life and love are impossible to predict.
Beginning:
"What's the point of doing all this math just to track a comet?" Scarlett says and squints through the lens of my telescope. "It's a fuzzy white speck."

"The whole point is to use pen and paper to predict the comet's perihelion."

"Perry-what?"
Friday 56:
On a calendar above the desk my birthday is circled in blue—it's also the registration date for the Waterman Scholarship. The online form has been saved and filled out. I need to re-read it at least two times and spell-check before sending in the registration.