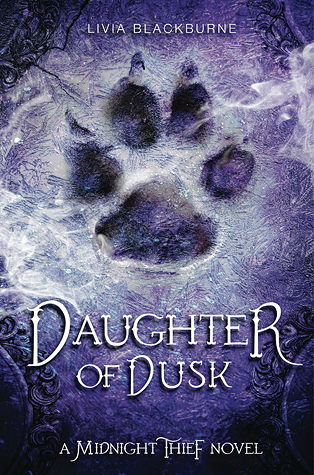 Daughter of Dusk
Author:
Livia Blackburne
Series:
Midnight Thief, Book 2
Publication:
Disney-Hyperion (August 4, 2015)
Description:
After learning the truth about her bloodlines, Kyra can't help but feel like a monster.
Though she's formed a tentative alliance with the Palace, Kyra must keep her identity a secret or risk being hunted like the rest of her Demon Rider kin. Tristam and the imprisoned assassin James are among the few who know about her heritage, but when Tristam reveals a heartbreaking secret of his own, Kyra's not sure she can trust him. And with James's fate in the hands of the palace, Kyra fears that he will give her away to save himself.
As tensions rise within Forge's Council, and vicious Demon Rider attacks continue in surrounding villages, Kyra knows she must do something to save her city. But she walks a dangerous line between opposing armies: will she be able to use her link to the Demon Riders for good, or will her Makvani blood prove to be deadly?
In this spellbinding sequel to
Midnight Thief
, Kyra and Tristam face their biggest battle yet as they grapple with changing allegiances, shocking deceit, and vengeful opponents.
My Thoughts:
This second book in the Midnight Thief series is filled with action. Kyra is coming to terms with being half Demon Rider but it is certainly a secret she is keeping from most in Forge since they are getting ready to fight a war to defeat the Demon Riders. She is still working Malikel who is the Defense Minister but Malikel is in a conflict of his own with Willem who is the Head Councillor. Willem wants to conscript civilians to fight against the Demon Riders and Kyra's best friend Flick is in the first group chosen and not by chance.
Kyra's relationship with Tristam is also causing both of them difficulties. Their statuses are such that the only role Kyra can have in his life is as a mistress which is unacceptable to her. Also, Tristam is courting another woman of his status who can bring troops to help guard his family from Demon Rider attacks. To add ever more tension, Tristam is subconsciously afraid of her because she is a Demon Rider. He has fought them and watched two of his friends killed by them.
In this story, Kyra learns more about her past and learns more about the Demon Riders. Kyra struggles a lot in this story about where her loyalties lie. She doesn't approve of the way the Council governs Forge and certainly hates that the wealthy can act seemingly without consequences. Her encounters with James as he is held prisoner in Forge's dungeon give her even more to think about. She knows that she doesn't like the way James tried to bring about changes to Forge but she still sees a need for Forge to change.
I enjoyed this story. I liked Kyra and her circle of friends. Fans of fantasy will enjoy this story.
Favorite Quote:
Though Kyra didn't exactly see herself as being able to blend in anywhere. On the contrary, half the Palace thought her a criminal, the Demon Riders didn't want her in the forest, and even the gutter rats didn't trust her anymore. It was a find line, she thought, between being able to blend in everywhere and nowhere.
I got this ARC from NetGalley.
You can buy your copy here
.