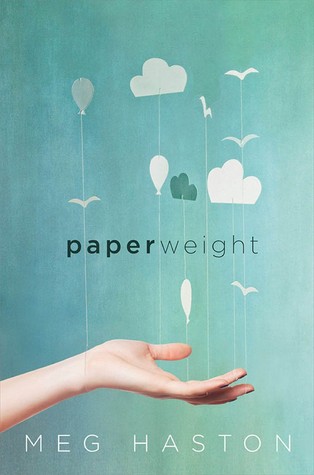 Paperweight
Author:
Meg Haston
Publication:
HarperTeen (July 7, 2015)
Description:
In the vein of Laurie Halse Anderson's
Wintergirls
, this emotionally haunting and beautifully written young adult debut delves into the devastating impact of trauma and loss.
Seventeen-year-old Stevie is trapped. In her life. In her body. And now in an eating-disorder treatment center on the dusty outskirts of the New Mexico desert. Life in the center is regimented and intrusive, a nightmare come true. Nurses and therapists watch Stevie at meal time, accompany her to the bathroom, and challenge her to eat the foods she's worked so hard to avoid. Her dad has signed her up for sixty days of treatment. But what no one knows is that Stevie doesn't plan to stay that long. There are only twenty-seven days until the anniversary of her brother Josh's death—the death
she
caused. And if Stevie gets her way, there are only twenty-seven days until she, too, will end her life.
Paperweight
follows Stevie's journey as she struggles not only with this life-threatening eating disorder, but with the question of whether she can ever find absolution for the mistakes of her past…and whether she truly deserves to.
My Thoughts:
PAPERWEIGHT is an excellent story of a young woman dealing with tragedy and a life-threatening illness. It begins when she is taken to rehab to deal with her eating disorders. She has a plan. She plans to die on the anniversary of her brother's death. She feels that she deserves to die because she feels that she killed him.
Through flashbacks we learn what brought Stevie to this place and we begin to understand why she has made the decision that she intends to accomplish. We also see how she begins to interact with her fellow housemates and with her therapist Anna - who she first thinks of as Shrink.
I think one of the things I noticed as she begins her first tiny steps toward recovery is that people become more real to her, that they have their own names, rather than what Stevie has named them. I liked the friendship that she developed with her roommate Ashley. I liked that she recognized how toxic her relationship with her friend Eden was.
The style of the book - with each Chapter marked by Date and Time - added to the tension in the story and kept me wondering if she was going to be able to fulfill her plan and die on the anniversary of her brother's death.
This book was an engaging story about a real and serious problem. I will be adding it to my High School Media Center when our new school year starts.
Favorite Quote:
"What did the diagnosis of anorexia mean for you?"

Anorexia. The word sounds intimate and sad. As if we knew each other, once, but are strangers now.

"Stevie, what did it mean?"

"It meant ... strength. Power. It meant I was ... better ... than."

"Mmm. Better than who?"

"Everyone. Myself. Who I used to be." She won't understand. And I don't know how to describe the transformation. It's as if all your life, you've been hiding in a self that wasn't yours. Buried beneath the surface was someone more potent. Someone special. And then one day, it happens. Maybe you're sitting alone in your room, doing your exercises. Maybe you're taking the long way to school, or dissecting the grilled chicken flesh on your plate with a blade. And you hear the word. Your calling.

Anorexic.

And it fits.
I got this ARC from Edelweiss.
You can buy your copy here
.