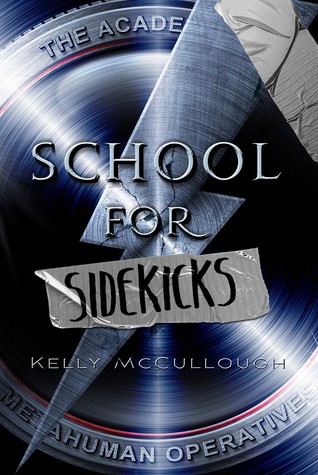 School for Sidekicks
Author:
Kelly McCullough
Publication:
Feiwel & Friends (August 4, 2015)
Description:
"Evan Quick, Hero's Log, May the 25th… and darn it - I just can't do this. I'm never going to be a Mask. Get over it Evan."
Evan Quick has spent his whole life dreaming of becoming a hero. Every morning he wakes up and runs through a checklist of test to see if he's developed powers over night, and every day it is the same thing - nothing. No flying, no super strength, no heat rays or cold beams. No invulnerability - that always hurt to check - no telepathy, no magic. Not even the ability to light a light bulb without flipping a switch. And now, he's finally ready to give up.
But then, the class field trip to the Mask Museum is interrupted by a super villain attack, and Evan somehow manages to survive a death ray. Even better, Evan's favorite Mask, Captain Commanding, shows up to save them all -- and when things go very wrong, it's Evan who finds the strength to come to
Captain Commanding's
rescue.
Yet the hero's reception Evan is expecting never happens. Before he even gets the chance to say hello, Evan is bundled away to The Academy, an institution derisively called The School for Sidekicks by its students. Forced to take classes like Banter Basics and Combat with Dinnerware, while being assigned as an 'apprentice' to Foxman - a Mask widely considered a has-been -- Evan starts to worry that he'll never be able to save the day…
My Thoughts:
Evan Quick has always wanted to be a superhero. Each morning he tests himself to see if he has developed any super powers. He has studied the Masks and Hoods and he knows more about his hero - Captain Commanding - than almost anyone else. Before a visit to the Captain Commanding amusement park, he has always failed the tests. After, well, that's something else...
A school field trip to the Mask Museum finds Evan caught in a battle between Captain Commanding and his arch-rival Spartanicus. Evan saves the day for his hero but when he wakes up he finds that history has been rewritten so that Captain Commanding was the hero of the day and Evan has been spirited away to a training school for superheroes.
Before Evan can become a mask, he has to be a sidekick. But with Captain Commanding blackballing him, the only mentor who will take him on his Foxman. Foxman was formerly great but has become an alcoholic has-been. As Evan gets to know him, he learns a lot more about the Masks and Hoods and he learns secrets that change his life.
I liked Evan because he was an average kid. He wasn't the most athletic or the smartest but he was determined and honorable. He didn't have a bunch of friends until he got to the school for sidekicks. The friends he does make are all interesting people too. I especially liked his friendship with Burnish who had some really interesting parent problems.
This was an exciting, middle grade fantasy. I liked the setting and the world building. I liked Evan's relationship with his parents and the relationship he builds with Foxman. Young fans of superheroes will enjoy this one.
Favorite Quote:
"Was that sarcasm? Because it sounded like sarcasm to me."

"It was sarcasm."

"Good. I'd hate to think my filters were that far off." He knocked back the rest of his MaskerAde. "You're a very sarcastic kid. Did you know that? Probably good in a sidekick, well, unless you wanted to go for the boyish enthusiasm thing. But that'd probably be bad for a man with my ego, so better to go with sarcastic. Feature, not a bug. I like that."
I got this ARC from Macmillan.
You can buy your copy here
.