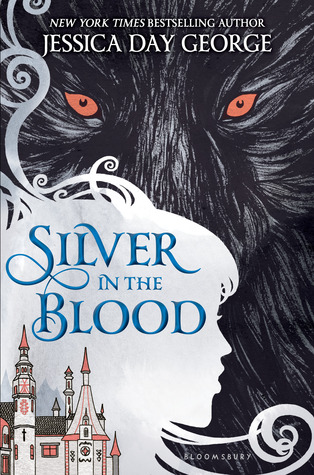 Silver in the Blood
Author:
Jessica Day George
Series:
Silver in the Blood, Book 1
Publication:
Bloomsbury USA Childrens (July 7, 2015)
Description:
As spoiled society girls from New York City circa 1890, Dacia and Lou never desired to know more about their lineage, instead preferring to gossip about their mysterious Romanian relatives, the Florescus. But upon turning seventeen, the girls must return to their homeland to meet their family, find proper husbands, and-most terrifyingly-learn the secrets of The Claw, The Wing, and The Smoke. The Florescus, after all, are shape-shifters, bound by a centuries-old tradition to do the bidding of the royal Dracula family and it is time for Dacia and Lou to take their place among the ranks. But when the devilish heir, Mihai Dracula sets his sights on Dacia as part of his plan to secure power over all of Europe, the girls choose to fight against this cruel inheritance with all their might. Only the dashing Lord Johnny Hardcastle and the mysterious Theophilus Arkady - members of a secret society charged with ridding the world of monsters - can help Dacia and Lou, but breaking the shackles of their upbringing will require more courage than the girls ever imagined.
The thrilling start to a richly drawn, romance-filled series, this epic adventure of two girls in a battle for their lives will have readers coming back for more.
My Thoughts:
Two young women Dacia Vreeholt and Louisa Neulander are cousins and society girls in New York. They are traveling to visit their mothers' family in Romania in June of 1897. Lou is quieter and shy; Dacia is outspoken and bold. Together they learn some family secrets that rock the foundations of their lives and find themselves involved in political intrigue.
Along the way they meet Lord Johnny Harcastle and Mr. Theo Arkady who become their romantic interests and co-conspirators. Johnny and Theo have been charged by the secret society of which they are both members to watch Dacia and Lou's family who are very suspicious. The girls have to deal with a grandmother who is using them to further her political ambitions and Prince Mihai Dracula who is mad and who wants to use them to help in his plan to conquer Europe.
The relationship between the two girls was interesting to read about. I enjoyed the way Lou stepped out of her secondary role to take charge when Dacia was thrown by the family secret. Lou was my favorite character because of the way she changed from shy little mouse to strong confident woman.
I liked that the story was filled with action and adventure. I look forward to reading more adventures with Dacia, Lou, Johnny and Theo.
Favorite Quote:
A hundred thoughts flashed through Lou's mind as she stood frozen in the doorway. Dacia had fled. She had eloped with Will Carver, or Lord Johnny, or even Prince Mihai.

Goodness, there were a lot of people she could imagine Dacia eloping with.
I got this ARC from NetGalley.
You can buy your copy here
.