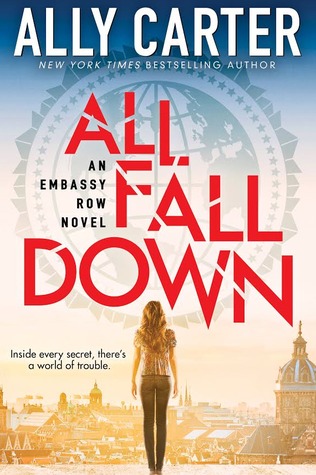 All Fall Down
Author:
Ally Carter
Series:
Embassy Row, Book 1
Publication:
Scholastic Press (January 20, 2015)
Description:
Grace Blakely is absolutely certain of three things:
1. She is not crazy.
2. Her mother was murdered.
3. Someday she is going to find the killer and make him pay.
As certain as Grace is about these facts, nobody else believes her -- so there's no one she can completely trust. Not her grandfather, a powerful ambassador. Not her new friends, who all live on Embassy Row. Not Alexei, the Russian boy next door, who is keeping his eye on Grace for reasons she neither likes nor understands.
Everybody wants Grace to put on a pretty dress and a pretty smile, blocking out all her unpretty thoughts. But they can't control Grace -- no more than Grace can control what she knows or what she needs to do. Her past has come back to hunt her . . . and if she doesn't stop it, Grace isn't the only one who will get hurt. Because on Embassy Row, the countries of the world stand like dominoes, and one wrong move can make them all fall down.
My Thoughts:
This was an engaging start to a new series. Grace is not like the heroines of Ms. Carter's earlier series. Grace is driven, obsessive, and very much alone. She is convinced that her mother was murdered. She was there; she saw it. But no one else believes her. She was hospitalized, medicated, and counseled but nothing is changing her mind. She grew up an Army brat but spent summers at the embassy in Adria with her maternal grandfather. Adria and the embassy is the closest thing she has to a permanent home.
Now she is back with her Grandfather whom she hasn't seen since her mother's death three years ago. She's determined to find the scar faced man that she remembers from the night her mother died. She suffers flashbacks and visions and isn't willing to put on a pretty face to make everyone think things are all right.
She meets a number of the other kids from Embassy Row - some for the first time and others that she knew from other visits. Alexei and Megan are from her past. Alexei is Russian and her brother Jamie's best friend. He tries to take care of her which she resents. Megan was the one whose mother works at the Embassy and who was always brought to play with her when she visited. Since she wanted to follow her brother and Alexei on their adventures, she was resentful of the time she was forced to spend with Megan instead. New acquaintances are Noah and his sister Lilah who have ties to the Israeli and Brazilian embassies. Noah declares that he wants to be her best friend and Lilah is the local mean girl/queen bee. Then there is 12-year-old Rosie who is German, wanted to be a gymnast until she grows too big, and who is an excellent spy.
When Grace sees the scarred man, she is assisted by her friends to track him. Megan and Rosie have unexpected talents that help but the main search falls on Grace as she explores the tunnels networking Adria.
The story was fast-paced; the dialog crisp and often funny; the characters were well-rounded and engaging people. While we do find out what happened at the time of Grace's mother's death, we don't really find out the why of it which left me a little unsatisfied. I will be looking forward to more books in this series so that I can have some of my questions answered.
Favorite Quote:
"So what did Ms. Chancellor tell you about me?" I ask.

Noah shrugs a little. "Not much."

"You flare your nostrils when you lie."

"I knew that," he says, nostrils flaring again.
I bought this one.
You can buy your copy here
.