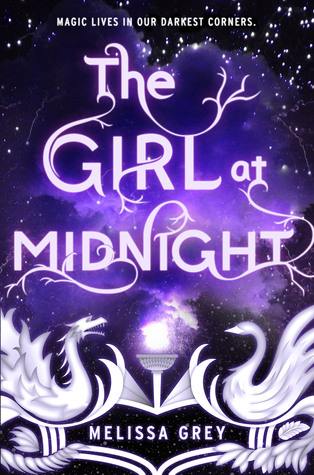 The Girl at Midnight
Author:
Melissa Grey
Series:
THE GIRL AT MIDNIGHT
Publication:
Delacorte Press (April 28, 2015)
Description:
For fans of Cassandra Clare's
City of Bones
and Laini Taylor's
Daughter of Smoke & Bone
,
The Girl at Midnight
is the story of a modern girl caught in an ancient war.
Beneath the streets of New York City live the Avicen, an ancient race of people with feathers for hair and magic running through their veins. Age-old enchantments keep them hidden from humans. All but one. Echo is a runaway pickpocket who survives by selling stolen treasures on the black market, and the Avicen are the only family she's ever known.
Echo is clever and daring, and at times she can be brash, but above all else she's fiercely loyal. So when a centuries-old war crests on the borders of her home, she decides it's time to act.
Legend has it that there is a way to end the conflict once and for all: find the Firebird, a mythical entity believed to possess power the likes of which the world has never seen. It will be no easy task, though if life as a thief has taught Echo anything, it's how to hunt down what she wants . . . and how to take it.
But some jobs aren't as straightforward as they seem. And this one might just set the world on fire.
My Thoughts:
Young runaway Echo is adopted by the Ala who is a member of the bird-like Avicen who live beneath the streets of New York. Ten years later, she is a thief who lives in a library. When the Ala asks her to retrieve an item for her, she finds herself on a quest for the legendary firebird who is supposed to have the solution to the war the Avicen and the scaled Drakharin have been fighting for a thousand years.
Caius, the Dragon Prince, is also searching for the firebird. He wants to bring an end to the war too. However, his sister Tanith is undermining his rule and won't accept any end to the war that doesn't mean fire and death to the Drakharin's enemies. After she deposes him, Caius find Echo and they band together to find the firebird.
Echo's loyalties are with the Avicen who provided her with the only safe home she has ever known despite the fact that many of the Avicen don't and will never accept a human in their midst. She certainly doesn't trust Caius or his friend Dorian especially since Dorian help imprison Echo's friend Ivy on Tanith's orders. But soon Echo, Ivy, Caius, Dorian and a colleague of Echo's named Jasper find themselves following clues and eluding enemies from both sides as they search.
This was an entertaining story with both adventure and heart. Fans of fantasy will want to begin this new series.
Favorite Quote:
There was something about churches that she found unsettling. Everything seemed overly concerned with death, as if someone had forgotten that the basis of the religion for which they'd been built was a rebirth.
I bought this one.
You can buy your copy here
.