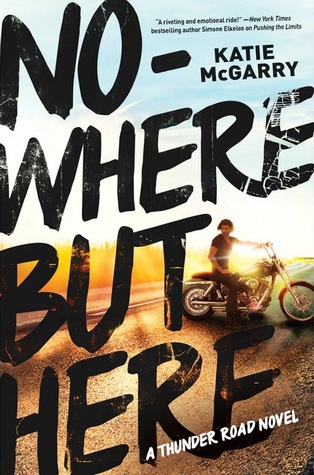 Nowhere But Here
Author:
Katie McGarry
Series:
Thunder Road, Book 1
Publication:
Harlequin Teen (May 26, 2015)
Description:
An unforgettable new series from acclaimed author Katie McGarry about taking risks, opening your heart and ending up in a place you never imagined possible
Seventeen-year-old Emily likes her life the way it is: doting parents, good friends, good school in a safe neighborhood. Sure, she's curious about her biological father—the one who chose life in a motorcycle club, the Reign of Terror, over being a parent—but that doesn't mean she wants to be a part of his world. But when a reluctant visit turns into an extended summer vacation among relatives she never knew she had, one thing becomes clear: nothing is what it seems. Not the club, not her secret-keeping father and not Oz, a guy with suck-me-in blue eyes who can help her understand them both.
Oz wants one thing: to join the Reign of Terror. They're the good guys. They protect people. They're…family. And while Emily—the gorgeous and sheltered daughter of the club's most respected member—is in town, he's gonna prove it to her. So when her father asks him to keep her safe from a rival club with a score to settle, Oz knows it's his shot at his dream. What he doesn't count on is that Emily just might turn that dream upside down.
No one wants them to be together. But sometimes the right person is the one you least expect, and the road you fear the most is the one that leads you home.
My Thoughts:
This was another amazing story by Katie McGarry. Emily likes her life the way that it is - safe, predictable, and simple. She loves living with her dad and mom in Florida and only sees her biological father Eli once a year. But things are changing this summer.
She and her family go to Tennessee supposedly to attend Eli's mother's funeral but learn that she isn't dead yet. She's dying of cancer and wants a chance to get to know her granddaughter. But coming to Tennessee puts Emily in danger from a rival motorcycle gang and Eli convinces her parents that he can protect her better if she stays with him in Tennessee for a while.
Eli tasks Oz with watching out for Emily. Oz has grown up around the club and his only future goal is to become a full member. They are his family. He doesn't expect to ever like Emily because he blames her for the grief that Eli has felt because she was gone. He certainly never expects to fall in love with her.
Emily tries to remain aloof but gradually comes to like - even love - her grandmother, father and other members of the club. But they are all keeping secrets from her. She learns that her parents are also keeping the same secrets. This is a really hard summer for Emily because the foundations that she has grown up with are being shaken. Loving Emily is also causing Oz to take a new look at his life too.
This story was filled with emotion. I teared up more than once as I was reading. And it was filled with information about the culture of motorcycle clubs. I almost felt like I was visiting another alien planet because that life is so different than mine. I can't wait to read Razor's story which is coming next in this series.
Favorite Quote:
"I will." His lips lift a little, a strong indication he's planning to mess with me. "How do you want to handle this? Straightforward, gradual introduction, or head in the sand?"

I brighten. "Head in the sand works well for me."

"Good try, but pick another option."
I bought this one.
You can buy your copy here
.