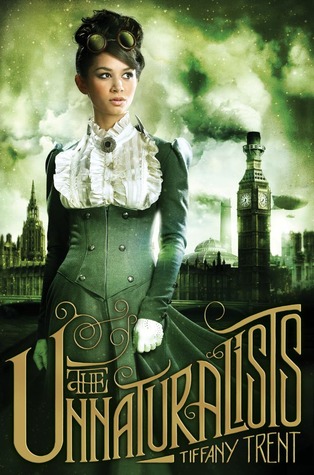 The Unnaturalists
Author:
Tiffany Trent
Series:
Unnaturalists, Book 1
Publication:
Simon & Schuster Books for Young Readers (August 14, 2012)
Description:
In an alternate London where magical creatures are preserved in a museum, two teens find themselves caught in a web of intrigue, deception, and danger.
Vespa Nyx wants nothing more than to spend the rest of her life cataloging Unnatural creatures in her father's museum, but as she gets older, the requirement to become a lady and find a husband is looming large. Syrus Reed's Tinker family has always served and revered the Unnaturals from afar, but when his family is captured to be refinery slaves, he finds that his fate may be bound up with Vespa's—and with the Unnaturals.
As the danger grows, Vespa and Syrus find themselves in a tightening web of deception and intrigue. At stake may be the fate of New London—and the world.
My Thoughts:
This story takes place in an alternate London that was somehow swept into another world complete with and run by elementals and other magical creatures.
The main characters are these: Vespa Nyx who is the daughter of a man who runs a museum filled with these magical creatures. Vespa is content with her life cataloging the unnatural creatures and creating displays;Syrus Reed who is a Tinker whose family lives on the edge of society and take care of the magical creatures who live in the woods. He also has the unique ability to communicate with the unnaturals; the third main character is Pedant Hal Lumin, otherwise known as Bayne Grimgorn, who is an Architect. Architects study magic and try to free captive elementals.
The main villain of the story is Charles Waddingly who has been taken over by a Grue and who wants to reopen the portal that would take him back to our Earth. And he is willing to kill huge numbers of elementals to accomplish his goal.
The setting of this story is an interesting combination of Victorian and Bourbon French and takes its social cues from both cultures. New that Vespa is growing up, she is being taken away from her life at the museum to prepare to find a suitable husband. Then she meets Lady Virulen from the highest level of society and is invited to be her companion. Lady Virulen has seen her doing magic and wants Vespa to do magic on her behalf. She blackmails her into doing a spell to help her catch a rich and titled husband. Unfortunately, the rich and titled man she wants is the same Bayne Grimgorn that Vespa has a crush on.
This was an interesting and engaging story. The best audience for this one would be readers who like fantasy and magic.
Favorite Quote:
Now I am angry. How dare he? I almost expect Saint Darwin to send his apes to carry this heretic away to the Infinitesimal Void right now! "And just what is the truth, if you are so sure you know it?"
I bought this one on December 5, 2013.
You can buy your copy here
.