Happy Friday everybody!!
Book Beginnings
on Friday is now hosted by
Rose City Reader
. The Friday 56 is hosted at
Freda's Voice
. Check out the links above for the rules and for the posts of the participants each week. Don't dig for your favorite book, the coolest, the most intellectual. Use the CLOSEST.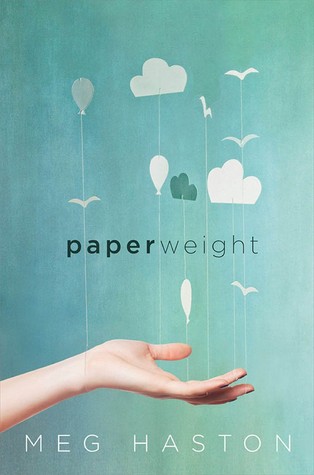 This week I am spotlighting
Paperweight
by Meg Haston. I got an eARC of this YA Contemporary from Edelweiss. Here is the description from Amazon:
In the vein of Laurie Halse Anderson's Wintergirls, this emotionally haunting and beautifully written young adult debut delves into the devastating impact of trauma and loss.

Seventeen-year-old Stevie is trapped. In her life. In her body. And now in an eating-disorder treatment center on the dusty outskirts of the New Mexico desert. Life in the center is regimented and intrusive, a nightmare come true. Nurses and therapists watch Stevie at meal time, accompany her to the bathroom, and challenge her to eat the foods she's worked so hard to avoid. Her dad has signed her up for sixty days of treatment. But what no one knows is that Stevie doesn't plan to stay that long. There are only twenty-seven days until the anniversary of her brother Josh's death—the death she caused. And if Stevie gets her way, there are only twenty-seven days until she, too, will end her life.

Paperweight follows Stevie's journey as she struggles not only with this life-threatening eating disorder, but with the question of whether she can ever find absolution for the mistakes of her past…and whether she truly deserves to.
Beginning:
Twenty-seven days to freedom, and I am caged. Suspended in a boxy aluminum prison with gray cloth seats and the synthetic stench of piña colada swinging from the rearview.
Friday 56:
Hours later, Josh found me leaning over the porch railing, sick with the loss of her, the putrid smell of my own vomit mixed with jasmine from the trellis.