Happy Friday everybody!!
Book Beginnings
on Friday is now hosted by
Rose City Reader
. The Friday 56 is hosted at
Freda's Voice
. Check out the links above for the rules and for the posts of the participants each week. Don't dig for your favorite book, the coolest, the most intellectual. Use the CLOSEST.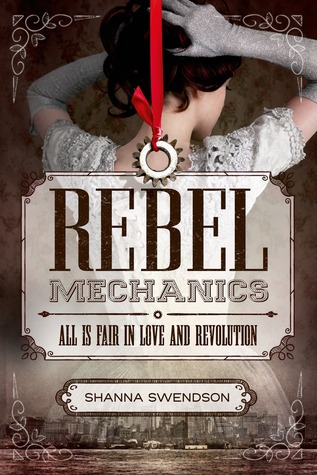 This week I am spotlighting
Rebel Mechanics
by Shanna Swendson. I got this ARC from Macmillan. I was drawn to this alternate history tale with magic and steampunk elements. Here is the description from Amazon:
It's 1888, and seventeen-year-old Verity Newton lands a job in New York as a governess to a wealthy leading family--but she quickly learns that the family has big secrets. Magisters have always ruled the colonies, but now an underground society of mechanics and engineers are developing non-magical sources of power via steam engines that they hope will help them gain freedom from British rule. The family Verity works for is magister--but it seems like the children's young guardian uncle is sympathetic to the rebel cause. As Verity falls for a charming rebel inventor and agrees to become a spy, she also becomes more and more enmeshed in the magister family's life. She soon realizes she's uniquely positioned to advance the cause--but to do so, she'll have to reveal her own dangerous secret.
Beginning:
If I'd let myself think about what might lie ahead for me, I'd have been terrified. So, instead of thinking, I lost myself in the book I'd bought at the train station newsstand—the kind of pulp novel I'd have had to hide behind a copy of The Odyssey if I'd still been at home in New Haven.
Friday 56:
"Leave that boy alone!" I shouted as I ran. "He's not responsible for what's in the newspaper."