Teaser Tuesdays is a weekly bookish meme, hosted by MizB of
A Daily Rhythm
. Anyone can play along! Just do the following:
Open to a random page
Share two (2) "teaser" sentences from somewhere on that page
BE CAREFUL NOT TO INCLUDE SPOILERS! (make sure that what you share doesn't give too much away! You don't want to ruin the book for others!)
Share the title and author, too, so that other TT participants can add the book to their TBR Lists if they like your teasers!
Teaser:
This is the part of my story where if I was in a movie they'd run a montage with inspirational theme music playing in the background and a clock on the wall with the numbers and dates blurring away two months.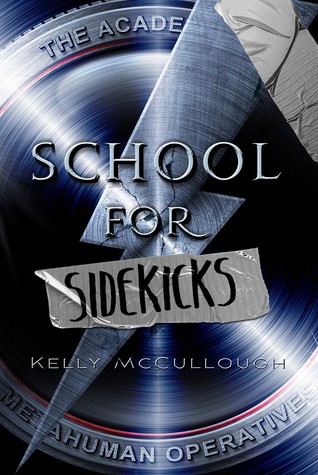 This week my teaser comes from
School for Sidekicks
by Kelly McCullough. I got this ARC from Macmillan. Here is the description from Amazon:
"Evan Quick, Hero's Log, May the 25th… and darn it - I just can't do this. I'm never going to be a Mask. Get over it Evan."

Evan Quick has spent his whole life dreaming of becoming a hero. Every morning he wakes up and runs through a checklist of test to see if he's developed powers over night, and every day it is the same thing - nothing. No flying, no super strength, no heat rays or cold beams. No invulnerability - that always hurt to check - no telepathy, no magic. Not even the ability to light a light bulb without flipping a switch. And now, he's finally ready to give up.

But then, the class field trip to the Mask Museum is interrupted by a super villain attack, and Evan somehow manages to survive a death ray. Even better, Evan's favorite Mask, Captain Commanding, shows up to save them all -- and when things go very wrong, it's Evan who finds the strength to come to Captain Commanding's rescue.

Yet the hero's reception Evan is expecting never happens. Before he even gets the chance to say hello, Evan is bundled away to The Academy, an institution derisively called The School for Sidekicks by its students. Forced to take classes like Banter Basics and Combat with Dinnerware, while being assigned as an 'apprentice' to Foxman - a Mask widely considered a has-been -- Evan starts to worry that he'll never be able to save the day…