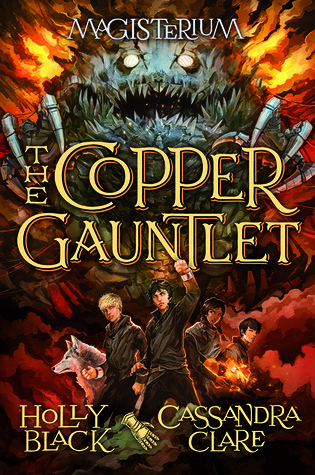 The Copper Gauntlet
Authors:
Holly Black and Cassandra Clare
Series:
Magisterium (Book 2)
Publication:
Scholastic Press (September 1, 2015)
Description:
Callum Hunt's summer break isn't like other kids'. His closest companion is a Chaos-ridden wolf, Havoc. His father suspects him of being secretly evil. And, of course, most kids aren't heading back to the magical world of the Magisterium in the fall.
It's not easy for Call . . . and it gets even harder after he checks out his basement and discovers that his dad might be trying to destroy both him and Havoc.
Call escapes to the Magisterium -- but things only intensify there. The Alkahest -- a copper gauntlet capable of separating certain magicians from their magic -- has been stolen. And in their search to discover the culprit, Call and his friends Aaron and Tamara awaken the attention of some very dangerous foes -- and get closer to an even more dangerous truth.
As the mysteries of the Magisterium deepen and widen, bestselling authors Holly Black and Cassandra Clare take readers on an extraordinary journey through one boy's conflict -- and a whole world's fate.
My Thoughts:
In this second episode of the Magisterium series, Call is home for summer vacation and worrying about the revelations of the first book. He is worried that he might be evil and he is even more worried that his father believes that he is evil. After a suspicious episode with his father, he and his chaos wolf Havoc flee to the home of one of his fellow apprentices. There he learns that his friend Aaron is being celebrated for becoming the makar who is a weapon against the villain.
Call knows that the Enemy of Death is not really leading the war against the Magisterium. His second-in-command is in charge and wants to capture Call because he believes that Call is the holder of the Enemy of Death's soul. Call isn't tell either of his friends about this belief because he is afraid they won't be his friends anymore and they're the first friends he's ever had.
Things escalate when the Alkahest - a copper gauntlet - is stolen and Call is almost positive that it is his father who took it. He refuses to believe that his father has united with the Enemy of Death's army but the rest of the Magisterium has decided that he is a traitor. Call, Aaron and Tamara along with tagalong Jasper leave the school to try to find Call's father.
This was an exciting episode in this series. I like the way Call is growing and I like his friendship with Tamara and Aaron. I look forward to reading more adventures for this intrepid young magicians.
Favorite Quote:
The whole being-secretly-evil thing distressed Call, too. A lot. He'd started making a list in his head—any evidence of him being an Evil Overlord went into one column and any evidence against it went into the other. He'd taken to referring to the list before making any and all decisions. Would an Evil Overlord drink the last cup of coffee in the pot? Which book would an Evil Overlord take out of the library? Was dressing in all black an Evil Overlord move, or a legitimate choice on laundry day? The worst part was that he was pretty sure his father was playing the same game, totaling and retotaling Call's Evil Overlord points whenever he looked in Call's direction.
I got this ARC from Amazon Vine.
You can buy your copy here
.