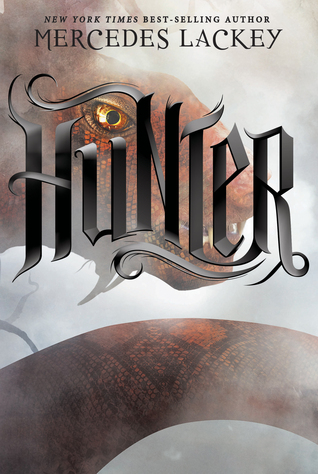 Hunter
Author:
Mercedes Lackey
Series:
Hunter (Book 1)
Publication:
Disney-Hyperion (September 1, 2015)
Description:
They came after the Diseray. Some were terrors ripped from our collective imaginations, remnants of every mythology across the world. And some were like nothing anyone had ever dreamed up, even in their worst nightmares.
Monsters.
Long ago, the barriers between our world and the Otherworld were ripped open, and it's taken centuries to bring back civilization in the wake of the catastrophe. Now, the luckiest Cits live in enclosed communities,behind walls that keep them safe from the hideous creatures fighting to break through. Others are not so lucky.
To Joyeaux Charmand, who has been a Hunter in her tight-knit mountain community since she was a child, every Cit without magic deserves her protection from dangerous Othersiders. Then she is called to Apex City, where the best Hunters are kept to protect the most important people.
Joy soon realizes that the city's powerful leaders care more about luring Cits into a false sense of security than protecting them. More and more monsters are getting through the barriers,and the close calls are becoming too frequent to ignore. Yet the Cits have no sense of how much danger they're in-to them, Joy and her corp of fellow Hunters are just action stars they watch on TV.
When an act of sabotage against Joy takes an unbearable toll, Joy uncovers a terrifying conspiracy in the city. There is something much worse than the usual monsters infiltrating Apex. And it may be too late to stop them
My Thoughts:
This was a very entertaining dystopia with a healthy helping of magic. Joyeaux Charmand is a Hunter. Hunters are the ones who can fight the Othersiders - monsters out of world mythology - by using magic, physical training and weapons and a pack of magical creatures to assist. Joy is called to go to Apex city to join the core of Hunters there who protect the heart of the country and the important Cits.
When she gets to Apex city, she learns that things are not the way she had supposed. She was raised in the Rocky Mountains far from the East Coast and she was trained by Masters at a monastery. That is all secret though. According to her story, she developed her powers only recently - instead of when she was a small child - and has come to the city for training. She didn't expect that the Hunters would each have their own video feeds and that huge numbers of people followed the feeds. She didn't expect to be taking part in a popularity contest.
But Joy is an excellent Hunter which quickly moves her up in the ranking which incites the jealousy of Hunter Ace who has had a long hold on first place. Joy also makes friends with her mentor Karly and another Hunter called the White Knight who is also a Christer, a minority religious sect.
Joy was also called to the city by her uncle who is the Prefect of the Police. The Hunters who are not in the Army are under his command. He warns her that someone may try to use or influence her in order to get to him. He has political enemies. Her uncle has as an assistant a Psimon named James. Psimons can read thoughts and are generally feared and avoided. Nonetheless, James and Joy become friends.
This book was very exciting to read. There were lots of battles with mythological characters. There was also a lot about finding like-minded friends. Joy was an interesting character who battled loneliness but who has a strong sense of duty as a Hunter to protect the Cits who are in danger from the Othersiders.
This is the first book in a series. I'll be haunting Mercedes Lackey's website waiting for news of the additional volumes.
Favorite Quote:
If you don't look after your fellow man, if you think that what you want is always more important that what anyone else wants or needs, you're not human, and that's that. There is no virtue in selfishness, not one bit.
I got this ARC from NetGalley.
You can buy your copy here
.