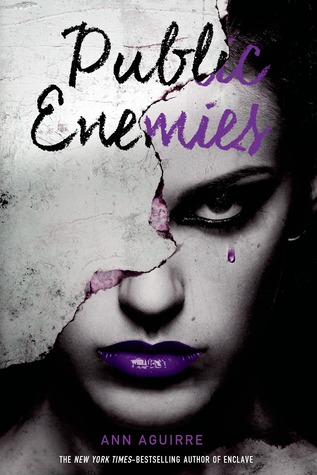 Public Enemies
Author:
Ann Aguirre
Series:
The Immortal Game, Book 2
Publication:
Feiwel & Friends (August 4, 2015)
Description:
Through a Faustian bargain, Edie Kramer has been pulled into the dangerous world of the Immortal Game, where belief makes your nightmares real. Hungry for sport, fears-made-flesh are always raising the stakes. To them, human lives are less than nothing, just pieces on a board.
Because of her boyfriend Kian's sacrifice, she's operating under the mysterious Harbinger's aegis, but his patronage could prove as fatal as the opposition. Raw from deepest loss, she's terrified over the deal Kian made for her. Though her very public enemies keep sending foot soldiers - mercenary monsters committed to her destruction - she's not the one playing under a doom clock. Kian has six months . . . unless Edie can save him. And this is a game she can't bear to lose.
My Thoughts:
Edie has been drawn into the Immortal Game. She is grieving for her mother who was killed by Wedderburn and for the coming death of her boyfriend Kian who sacrificed the rest of his life for her safety. Kian made the deal with the Harbinger who is a combination of all the trickster gods.
Edie is being wooed by the mortal secret society who is trying to end the Mortal Game and she is being targeted by many in the game who either want to compel or service or kill her before she gives her service to one of their rivals. Edie is hoping to find a loophole in Kian's agreement with the Harbinger that will let him live past his six month deadline.
When her father, who has been so lost in his grief over his wife's death that he is ignoring Edie and living in his lab, is kidnapped by another player in the game, Edie has to recruit unlikely allies to get him back. But using this magic can change her forever if she isn't careful.
I was fascinated by all the characters from different mythologies who people this series. I will admit that I really liked the Harbinger despite knowing that he couldn't be trusted. I even lived the sadistic killer clown who was assigned by Wedderburn to guard Edie but who was constantly tempted to kill her.
This story is rich in drama and packed with emotions. My heart broke for Edie as she dealt with her father's abandonment of her and her grief knowing that Kian didn't have long to live. I loved the relationship between Kian and Edie. He always saw her and accepted and loved her despite what Edie saw as her many flaws. I loved Edie who is trying so hard to do the right thing and protect the ones she loves.
This was an excellent second book in a series and I can't wait to read the third.
Favorite Quote:
"So you're worth dying for, hm?" He circled me in slow, stalking steps, leaning in to sniff at me as if I possessed some exotic aroma.

"I hope it doesn't come to that," I answered, before I could think better of it.
I got this ARC from Macmillan.
You can buy your copy here
.